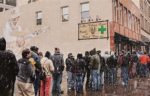 That is what is emblazoned on a mailing that we received prior to Christmas. The words are huge and white, followed by "It doesn't matter what you call it, MAKE IT LEGAL. Immediate action required – send your personalized petition and mail it back today – free!" I looked at my "personalized petition" and it contained the voter's information printed on the three-fold flyer, of both my husband and I, including our full address, and our voter registration numbers. All we had to do was sign it and pop in the mail, no postage needed! It came from "Make It Legal Florida" in Tallahassee.
It then states that the "form" if mailed, will become a "public record" upon its filing with the Supervisor of Elections, because apparently, it is a planned Amendment. The amendment is titled "Adult Use of Marijuana," and gives a ballot summary. The big glossy, colored flyer gives some incentives. They are as follows:
The amendment includes "strict rules" to make sure that marijuana products are clearly labeled, childproof, and not advertised to children.
It will help combat the "opioid addiction" crisis and free up law enforcement to protect us from violent criminals and sexual predators.
 It will boost our economy and generate more than a hundred million dollars per year in new revenue to fund important priorities such as schools, healthcare, and public safety. The above words in bold were in bold on the flyer, so they took the time to point out the wonderful benefits of legalization of marijuana in the state of Florida.
Where do I begin? I was deeply offended that this organization dove into our County Records and obtained our and others voting registration records. I live in a state that already has a major drug problem. We are known as the capital of the pill-popping clinics, called pill mills. Just Google pain clinics in Florida and the articles are filled with doctors spreading the addiction of oxycodone across the country, reports if numerous arrests of physicians in the business of writing endless prescriptions for drugs, the increased crackdowns on drug distribution, etc. that go back decades.
Combine that problem with a port that is open to illegals and plenty of drugs, pouring in from Mexico and other countries. Then throw in a nation-wide drug epidemic that is stupefying generations into a state of inertia. Inertia, numbness, combined with new laws that many states are embracing, to not prosecute "petty crime", stealing, whether from stores, homes or people, assault and drug possession… where is this going?
It all started with medical marijuana. People in pain can benefit; who can argue with that? Yes! Let's relieve those in pain, agree there. We also knew it would be a short leap to recreational legalization and here we are. But wait! Florida's schools, crime rate, and economy could benefit from this law passing, if we would just give in and see the light, as they pointed out in the flyer!
Who didn't take a puff in high school or college? The tainted brownie, pot was everywhere, but not legal. Sometimes it was mixed with other "substances" to boost potency. I do remember being foggy-brained as a youth after "inhaling," a la Bill Clinton, and then being flat out crosseyed by a strange chocolate brownie or a laced joint. We do very stupid things when we're young. Then we grow up.
Florida is a challenging state. It is beautiful, warm, and also hosts a dark side. Here in the Panhandle, the nightly news is full of drug busts, meth heads, perverts, and suffering. How can legalizing more drugs improve this condition? We know people that hand over their pay to buy pot and beer while their families need diapers and food. Addiction is addiction. Of course, they won't "follow the rules," they don't now!
So far, we are up to 11 states that have legalized marijuana for recreational purposes.
I understand that this is a product that someone 21 and over, might want to indulge in. Fine. We also know about human nature. Look what happened with vaping, a product designed to help adults kick cigarettes. Look at the states that have already legalized marijuana. Their homeless populations have grown, and drug problems have increased. My sister sent me the newspapers from her little mountain town so I can read about the local news. Maryland has just disbursed over a million dollars to her small town to combat the rampant drug problem. This is a tiny drop in the bucket of money that states are having to shell out to fight drug abuse.
Some may say oh, it's just pot. Let's take it out of the hands of the cartels. It's just pot, but Narcotics Anonymous and Al-Anon are filled with stories of "just pot." My friend who smoked pot for years has chronic COPD. Her son went on to bigger drugs, was incarcerated for years. It starts with just pot. Headlines of people hospitalized from consuming synthetic pot – who can tell what is what with a can of worms?
I went to CVS today. On the counter was a sample bottle of hand lotion containing cannabis. Pot leaves were on the label. It's turning up everywhere… even teabags at the local farmer's market. Can we think a moment about having a society that is coherent, present, healthy, energetic, aware, and vibrant, and not drugged up and unresponsive? Is this not the best deterrent to a burdened healthcare system, or vulnerable homeland security, while promoting healthy families and children and productive employees? Interesting that the flyer included an economic boost to healthcare! I plant to petition this with my local and state representatives, which include Congressman Matt Gaetz and Governor Rick Desantis. I believe they have good intentions for my state, and that doesn't include more drugged-up and tuned-out citizens.
Published in General