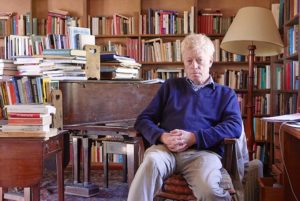 At a certain age on the path to adulthood, we begin to realize not just that our heroes are human, but that they are mortal. In the last five years, we have said goodbye to Harry Jaffa, Kenneth Minogue, Rene Girard, Bernard Lewis, Gertrude Himmelfarb, and Forrest McDonald, among brilliant others, and I have watched each go with an increasing sense that I was seeing my pantheon of intellectual greats fade rapidly.
Roger Scruton always held a special place in my heart, much as he might despise the trite cliche, because he was with me almost from the very beginning (I first read one of his books when I was 14) and because he spanned such a wide variety of mediums and topics with stunning skill. He showed me that a conservative could claim a place in academia, could show true genius and originality of expression in their field, and also claim a place outside of it, in the culture. On an even more personal level, his love of Britain, so beautifully expressed in much of his work, and the way that he had simply represented British academia for me was one of the things that inspired me to push aside myriad fears and take up a place at a British university.
I know that the many forthcoming obituaries of Sir Roger will praise his excellence as a writer of both fiction and nonfiction, his achievements as a scholar, his ability to bring beauty and the aesthetic sensibility to more popular attention without compromising their essence, and the impact that he has had on various political leaders. These are important aspects of his life and work, to be sure, but I would like to focus on two aspects that made the most impact on me; The Salisbury Review (and its ancillary The Conservative Philosophy Group) and his work in Czechoslovakia.
The Conservative Philosophy Group (CPG) was founded in 1974 by Sir Hugh Fraser, an MP, to provide an intellectual backbone for the Conservative Party at a time of crisis and Scruton was one of the first members of the original four-man board. During the leadership, and the premiership of Margaret Thatcher, the CPG did much to introduce conservative scholarship and free-market ideals to the rank-and-file members of the parliamentary delegation, in large part thanks to the remarkable thinkers Scruton was able to call upon for talks, discussion panels, and papers.
Eight years later, he founded The Salisbury Review, a quarterly magazine founded to defend the ideals of traditional conservatism, and to show that conservatism was a worthy intellectual project with a rightful place within the western philosophical pantheon. While the ideas of some contributors, and even Scruton himself, clashed with the Thatcher administration's policies, he enticed the Iron Lady, along with such bright lights of the last 40 years as Alexsandr Solzhenitsyn, Enoch Powell, Theodore Dalrymple (Anthony Daniels), and P.D. James, to contribute. Both organizations showed the best of conservative thought, and how it could thrive even without academic receivable (as well as the absurdity that it lacked such a thing).
While he showed courage as a thinker and a writer in standing up to the British academic establishment, Sir Roger also showed profound personal courage. He was an active participant in the Jan Hus Educational Foundation, crossing the Iron Curtain to distribute banned books and run underground philosophy seminars all over Czechoslovakia. He even arranged for Czech students to have the opportunity to study for Cambridge degrees by coordinating an underground course with the theology faculty. Although Scruton was imprisoned, expelled, and placed on the Index of Undesirable Persons in 1985, he continued his activities in Hungary and Poland, as well as soliciting volunteers and financial support in Britain. At great physical risk to himself, Roger Scruton crossed into a world of almost unimaginable censorship and political terror and brought not only a breath of intellectual freedom, but hope to the countless people, young and old, that faced similar danger to listen to his message.
Sir Roger's courage, both intellectual and personal, has been of such importance to my formative years and to the image of who I wish to be when all has been said and done. It convinced me to make a go at an academic career, to learn Russian and Arabic (so that I might help the advocates of personal freedom struggling under repressive regimes as he did), and to take time out of the relentless busyness of my modern life to enjoy art, music, poetry, and literature with true gratitude.
I had hoped, especially since coming to England, to meet him, as I had not had the opportunity with so many others of my heroes, but even though death has denied me the honor, I will carry the lessons he had taught me, and the ones I have yet to learn as I grow with his work still beside me, for a lifetime. In your honor, Sir Roger, I will listen to a Corelli concerto on my way to a traditional Latin prayer service, and raise a glass of port under the stars when I return home. May the beauty of the world beyond that you reach today exceed even the beauty, in word and deed, that you brought to our ugly times.
Published in General