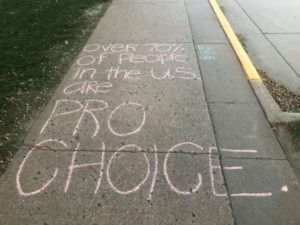 Intimidation still reigns at many college campuses against students who "frighten others" through their speech. This "problem" is just another way of saying that conservative students are being threatened with punishment if they make statements that the students on the Left see as offensive. I'm all for fighting against the efforts to squelch free speech. But I wonder if some of these efforts are always helpful.
A fairly new organization, Speech First, is championing students' rights to free speech. Speech First, in part, explains their goals:
Students' speech rights on campus are threatened on a regular basis. But the prospect of standing up to a school can be overwhelming – it can be expensive and time-consuming (not to mention awkward, since the student probably still wants a diploma at the end of the day). That's why most students don't take action. But what if students who wanted to stand up for free speech on campus were supported by like-minded students from all over the country? And what if those students were part of an organization that had the resources to fight back? Suddenly, it's not so daunting after all.
To support this goal, Speech First is suing universities who have policies that they believe are intended to "chill" free speech. At the University of Michigan, Speech First sued the university for establishing a Bias Response Team, which would respond to complaints of harassment. Their challenge was not whether the complaints were factual or fair, but that the policy in itself was unfair and unconstitutional. In this referenced article, the claim was made that the policy was "innocuous" and the Bias Response Team was "toothless." The question was raised, therefore, whether the mere threat of the policy was unconstitutional. Nevertheless, Speech First was successful in the university's agreeing to abandon parts of its policy.
Speech First is now suing Iowa State University:
Through the use of three policies – a ban on chalking, a prohibition on student emails related to campaigns and elections, and a Campus Climate Reporting System – Iowa State University has created an elaborate investigative and enforcement regime designed to chill speech concerning political and social issues of public concern.

Speech First student members at Iowa State University are significantly burdened from participating in the political process because of the bans on chalking and sending emails in support of candidates. 'The state of Iowa is a major destination for presidential candidates, who are on or near campus on a regular basis,' said Speech First president Nicole Neily. 'Many students learn about meet-and-greet events because events have traditionally been promoted through chalking – and by banning these advertisements and emails, students are missing out on major civic participation opportunities.'
Out of 33,000 students, the school's reporting system received 100 reports made anonymously. This is how the System operates :
The university may be most legally vulnerable for its Campus Climate Reporting System, which is as Orwellian as it sounds. Under the 'system,' students are encouraged to report "bias incidents" to a panel that includes the chief and vice chief of the Iowa State University Police Department, the dean of students, and the university counsel.

Speech First says the school's definition of bias is unconstitutionally 'amorphous and entirely subjective,' leaving students to 'credibly fear that the expression of their deeply held views will be considered 'biased' and reported.' The university's examples of reportable bias acts include 'commentary in the classroom perceived as derogatory or biased.'
There are a number of factors that concern me regarding this process:
Although the total number of incidents is listed, it isn't clear how many of them were verified as true, how many were dismissed, and what the specific lists of incidents were. Consequences for violators are up to the System team.
It isn't clear whether there are consequences for people who use the system illegitimately. In other words, if someone is accused inappropriately or unfairly, he or she appears to have no recourse against the accuser.
There appears to be no process to determine what a successful System would look like, whether it's working, and whether it should be continued.
A "Climate Report" has been issued to define and describe the climate on campus and the ends that are sought. Many of the criteria are vague, subjective and biased.
On the negative side, I'm concerned that Speech First, probably unintentionally, is creating a climate of helplessness for the conservative student; students may come to believe that they can't challenge the system for any number of reasons, and will assume that they must be protected from an unclear threat from the university.
It's not clear whether the mere threat of punishment is unconstitutional.
On balance, I support Speech First's efforts to fight for free speech on college campuses. But I would like to see the promotion of their efforts described as empowering students, not holding their hands against the university administration.
Meanwhile, universities should take notice: we're fighting back!
Published in Education