Flash fiction is a fun genre. They are the shortest of short stories, describing a short scene that needs little setup with an emphasis on the punchline. In a sense, they're like a dramatic joke, and they often show up in response to random observations. A classic example is "We are like elves to dogs" meme: [Reproduced in text to avoid CoC violations]
In the dog world, humans are elves that routinely live to be 500+ years old.

They live so long .. but the good ones still bond with us for their entire lives.

These immortals are so kind we must be good friends to them.

Now I am old. The fur around my muzzle is grey and my joints ache when we walk together. Yet she remains unchanged; her hair is still glossy, her skin skill fresh, her steps still sprightly. Time doesn't touch her and yet I love her still.

For generations, he has guarded over my family. Since the days of my great-great-great-great-great-grandfather, he has kept us safe. For so long we thought him immortal. But now I see differently, for just as my fur grows grey and my joints grow stiff, so too do his. He did not take in my children, but gave them to his. I will be the last he cares for. My only hope is that I am able to last until his final moments. The death of one of his kind is so rare. The ending of a life so long is such a tragedy. He has seen so much; he knows so much. I know he takes comfort in my presence. I only wish I will be able to give him this comfort until the end.
That's flash fiction. Short, yes, but like the marriage montage in "Up!" it tells a story so easy to relate to that your mind fills in all the gaps, and maybe even leaves you a bit verklempt. This is one of my recent attempts, based on the image at the bottom.
"Gold!" Sprocket whined, small wisps of smoke rising from his nostrils. "I need gold!"
I sighed. Get a dragon, they said. It'll be fun, they said. Just a scaly cat, they said. Yeah, well, having a pocket-sized dragon might be useful for mouse control, and he was certainly cute, but where was a newly-graduated 20-something living with her sister going to get a bed of gold coins for her dragon's horde? And Sprocket had been whining about this for weeks.
Granted, I shouldn't have gotten an animal I couldn't take care of properly, but who'd have thought that the little devil would be so insistent! Food, water, attention, training — these I could provide. But gold? Not with prices at $1500/oz; I don't have a bed that expensive! But I'd had an idea, and once my sister got back from the store …
"It's okay, Sprocket," I said, extending a finger to rub him under his chin. "Sissy's getting you a bed of gold coins right now."
"Hmph," he snorted, but accepted my attention and started wrestling with my fingers. He really was adorable, which was the only reason the needy, irritating jerks survived to adulthood.
The downstairs door opened. "I'm home!" my sister called up the stairs. "And I've got the gold for the cutest little Sprocket there ever was." She pulled the coins out of the grocery bag, encased in a plastic mesh bag.
"Gold!" Sprocket jumped down to the floor, yelling the word while jumping back and forth to grab the bag. "Gold! Gold! Gold! Gold! Gold!"
She handed over the mesh bag to me. I cut an opening and poured the coins on the table. Sprocket jumped up to my lap and then up to the table, then climbed on the small pile. "Gold! Gold! Gold! Gold!" He stopped, then sniffed suspiciously. "Doesn't smell like gold …"
Damn it. How does the little bugger even know what gold smells like?
He grabbed a coin, then investigated the edge. He quickly spotted the seam and pulled back the foil.
"Momma, this isn't gold! You lied!"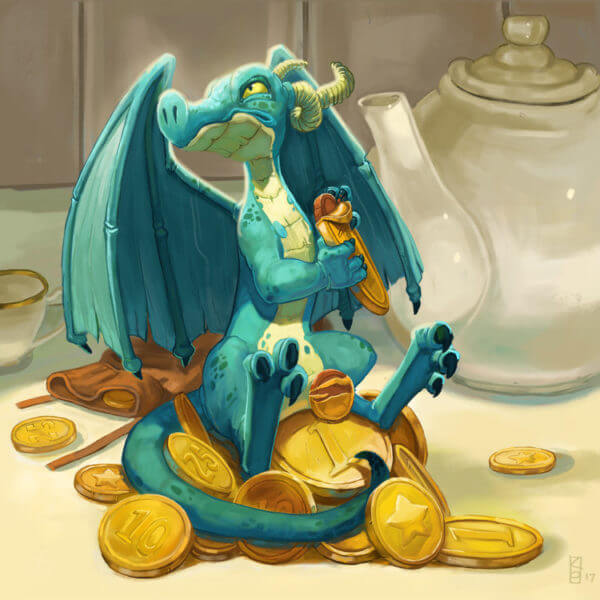 Published in Culture