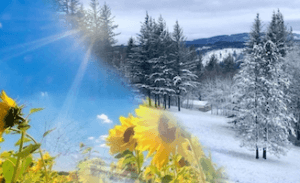 As we variously huddle in, dig out, or get on with the new year, here are a few popular music tunes from the late 20th Century, the start of a soundtrack. I invite your contributions in the comments. Or offer up a few tunes of your own, in the same genre or other genres! There are plenty of days left in our monthly theme "Winter of our Discontent," so feel free to express yourself! Let's start in 1966:
In 1968, "Sometimes in Winter" was a melancholy, reflective tale:
The Queen of Disco gave us December Melody in 1976:
In 1977, the Steve Miller Band offered a short simple tune, "Winter Time":
Well, that is all goes nicely with a gloomy winter day. Let's get some sunshine in here. The Beach Boys are the obvious place to start. In 1964, they released "All Summer Long":
From 1969, "Here Comes the Sun":
The 5th Dimension kicked up the tempo with "Let the Sunshine In":
By 1983, we were "Walking on Sunshine":
Surely a summer day is the answer to a hazy shade of winter. Or maybe not, consider Bananarama's 1984 lament:
Maybe winter is not so bad, especially if we kick it uptempo, as the Bangles did in 1987:
Yes, they can do that live, without autotune, in four-part harmony.
What do you think? Go on, express yourself!
.
Published in Group Writing