Yes, desire needs to be healed. Or, at least, that's what people like Augustine of Hippo thought. (Here is the background conversation about that.)
So, how is desire healed? Here are a few pointers on eight neat books where Augustine discusses it. I go into more detail in my new book, Reason, Authority, and the Healing of Desire in the Writings of Augustine. These eight books make a great cross-section of Augustine's writings:
TOPIC: –>

METHOD: ↓

Apologetics
Ethics
The Problem of Evil
God and the Soul
Reason
De Vera Religione

On the True Religion

De Natura Boni

On the Nature of the Good

De Libero Arbitrio

On the Free Choice of the Will

De Magistro

On the Teacher

Authority
De Utilitate Credendi

On the Usefulness of Believing

De Bono Coniugali

On the Good of Marriage

Enchiridion

Enchiridion / Handbook

Confessiones

Confessions
De Vera Religione, On the True Religion, is an early book refuting the Manicheans. In it, Augustine explains that orthodox Christianity completes what Platonism began—the redirection of our desires towards God. This renovation of the heart is accomplished by the Incarnation. Augustine explains these things, urges us to follow Christ as well, and leads us in some first steps towards learning to love as we ought.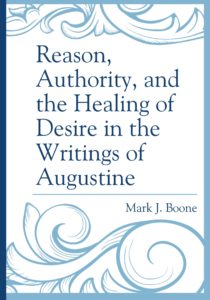 De Natura Boni, On the Nature of Good, is another refutation of Manicheanism. The main idea here is to develop a metaethics, to explain why what is right is right. Goodness is built into the structure of reality. Evil is not a thing in itself, but a lack of the goodness a thing is meant to have. There is an order to goodness, a hierarchy—God is the greatest good, rational spirits (such as human souls) great goods, and other things lesser goods. We should love things in proportion to their goodness. Sin is desiring a lesser good in place of a higher.
De Libero Arbitrio Voluntatis, On Free Choice of the Will, is another anti-Manichean book. Evil comes from the misuse of free will by created beings. God is innocent of evil and orders the universe in the best way possible. Evil includes the usual desire for lesser goods instead of greater ones, and also includes the just punishment of disordered desires. Evil is marked by pride, and the healing of our desires requires grace—the Incarnation of Christ, whose humility we must imitate in order to have our loves straightened out.
De Magistro, On the Teacher, is a conversation between Augustine and his son Adeodatus presenting the theory that signs are important for reminding us of the truth, but are powerless to teach us anything. A sign is useless unless I know what it signifies. We get knowledge directly from God; Jesus Christ dwells in the soul and teaches us there. To know Him should be our greatest desire, and He our greatest love. To know and love Him is the happy life.
In De Utilitate Credendi, The Advantage of Believing, Augustine tries to persuade his old friend Honoratus to abandon the Manicheans. Augustine argues that religious belief, accepting the authority of Christ and his church, is reasonable. Trusting testimony is rational, and we all do it — for example, accepting who our parents are on the basis of their testimony. And the authority of Christ is necessary for renovating our desires, helping us love what we ought.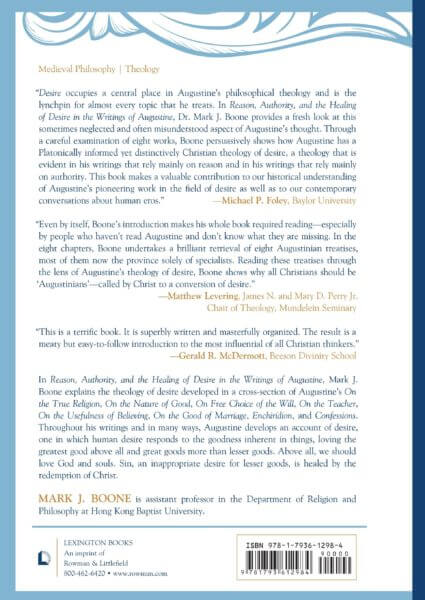 In De Bono Coniugali, On the Good of Marriage, Augustine considers the place of marriage in rightly ordered loves. A greater good is holy celibacy, but marriage is a real good. Marriage treats our disordered desire, turning it towards good ends. Marriage is good mainly for three reasons: procreation, fidelity and friendship of husband and wife, and symbolism of Christ.
In Enchiridion, the Handbook, Augustine overviews Christian theology. Among other topics, he explains that evil involves a love of created realities with the love due to God. Only God's grace can redeem desire. Christ's human nature is unsullied by evil desire because of his virgin conception. We must pray and look to the church for desires' healing. Our desires will only be fully healed at the coming resurrection of the dead. Right desire conforms to the love of God and neighbor.
Confessions is the paradigmatic reflection on God and the soul, relying largely on biblical authority. Confessions is about the reordering of our loves — from a desire for carnal objects to a desire for, and ultimately a delight in, God. Augustine's theology of desire is meant to help us love God properly, and thereby to restore order to ourselves and to creation by loving things properly as what they are — finite goods created by God.
This material is drawn from the introduction to Reason, Authority, and the Healing of Desire in the Writings of Augustine. For a more direct summary of how desire is healed according to Augustine, buy the book and see the next bit of the intro.
This post is (as far as I know) the last of a three-part series on the new book. Earlier installments are here and here.
Published in General