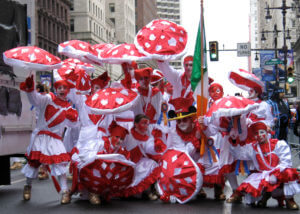 PHILADELPHIA — The public library system of Philadelphia has canceled a program that featured Mummers, members of flamboyantly costumed groups that perform annually in the city New Year's Day parade, reading books to young children. The cancellation comes after the first such event, held in Wissaquehoninghocken (pronounced "pa-SHUNK") Library, a public library in Northwest Philadelphia, where Kevin Prosciutto, a 37-year-old longshoreman and member of the Golden Fancy Boys of Manatiniquehanna (pronounced "pa-SHUNK"), was scheduled to read the book "Myrtle the Covetous Platypus" at an event advertised for children between five and eight years of age.
According to an unnamed source within the library, Mr. Prosciutto entered claiming to be depicting Dallas Cowboys owner Jerry Jones, but resembled "the illegitimate love child of Elton John and Lady Gaga, if that love child had consumed LSD which was somehow fattening." Four pages into the book, other members of the Golden Fancy Boys of Manatiniquehanna entered carrying small stringed instruments, which they played while singing a song that involved various Presidential candidates and elements of the plot of "Guardians of the Galaxy 2." When pressed for details, the unnamed source began weeping quietly and only said, "I had no idea the name 'Elizabeth Warren' could rhyme with so many parts of the female anatomy."
Although a spokesman for the public library promised mental health services would be made available for the children and (perhaps more importantly) their parents, most of the children seemed unfazed by the incident, with many assuming Mr. Prosciutto was portraying Gritty, the Philadelphia Flyers mascot. No children or library staff members were injured, although Mr. Prosciutto and Andrew Halupszczkowski, another member of his group, were briefly treated for an incident involving Elmer's Glue and their own chest hair.
Libraries affected by the program closure include Wyoconshouwchlan, Shackamackoning, and Gwynyddhloc, all of which are pronounced "pa-SHUNK."
Published in Humor