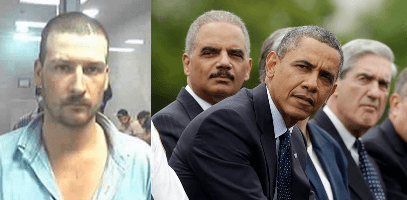 On December 14, 2010, Brian Terry was murdered. Barack Obama and his willing accomplice Attorney General Eric Holder put the gun in the killer's hand. They did so for the real purpose of subverting the Second Amendment, creating such ugly facts on the ground in Mexico that they could jam through federal gun bans. The facts on the ground ended up boomeranging in the Arizona desert, and the cover-up was on. Wednesday, 8 January 2020, in a courtroom in Arizona, the sixth man was sentenced in the murder of Brian Terry. The Arizona Republic has the story:
U.S. District Court Judge David Bury sentenced Heraclio Osorio-Arellanes to life in prison. U.S. prosecutors accused him of being part of a five-men "rip crew" that robbed smugglers once they crossed the Arizona-Mexico border.

Osorio-Arellanes and his rip crew encountered several Border Patrol agents the night of Dec. 14, 2010, leading to the gunfight that resulted in Terry's death after a bullet severed his spine and heart.

Osorio-Arellanes fled back to Mexico, where he remained in hiding until April 2017, when Mexican navy soldiers arrested him near the Sinaloa and Chihuahua state border. In August 2017, Mexican officials extradited him to the U.S.
Why life and not the federal death penalty? Because we allow Mexico to dictate their false piety, their cynically fake concern for life. No extradition unless we first agree to put the murderer up for the rest of his life at our expense. This is why it also took almost a year from the guilty verdict to the sentencing. Incidentally, this is why the Mexican government has held the last man known to be involved on their side of the border until they knew that we had not torn up the deal and given real justice to Brian Terry and his family.
Mind you, not one stinking lawyer from the Department of "Justice" lost their pension, their career, let alone their freedom. A few ATF heads rolled as "Fast and Furious" expedient sacrifices. These agents really only were punished as cover for Obama and his consigliere Holder taking revenge on the constitutionally faithful ATF agent who dared blow the whistle on their scheme, firing the whistleblower in a Denny's parking lot! 
Attorney General Barr needs a fire hose. No, he needs the Colorado River to clean out this cesspool. President Trump should have Brian Terry's surviving family members to the White House and completely meltdown on the Mexican government and the corrupt American "justice" system that caused Brian Terry's death. He should do so with AG Barr present, preparatory to the larger call for fundamental reforms after DAG Durham's indictments.
Published in Domestic Policy