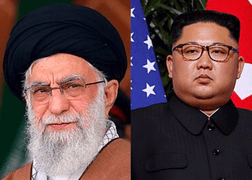 The pattern of precision strikes this past year against ISIS leaders, the IRGC Quds Force commander, and one or more senior proxy militia commanders not only has put the Khomeinist regime on notice but also serves as a useful object lesson to Little Rocket Man, Kim III. Notice that the promised "Christmas surprise" never arrived through the full 12 days of Christmas. Whatever Kim's calculations, the American military just reminded him, and everyone else, that there is nowhere the eagle's talons can't strike.
Chris Wallace asked Secretary Pompeo if impeachment trial talk was weakening the president's hand in foreign policy. Pompeo' deadpan answer: "You should ask Soleimani." Kim has enjoyed a family tradition of acting the mad dog and getting thrown nice meaty bones time after time. Suddenly he has an opponent who gets showmanship and high-pressure negotiations. And the man just had a senior official in the old axis of evil snuffed out, an official all had believed untouchable; off-limits as the game was being played.
If Kim is ever to get past the winter of his discontent, it is now less likely to be with the artificial sunshine of an open hydrogen bomb test, at least so long as Donald J. Trump is president of these United States.
Published in Group Writing