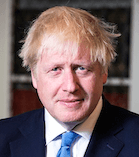 On Christmas Eve, Powerline Blog pointed to Boris Johnson reciting a long passage from the Iliad, in ancient Greek, not as a schoolboy might, but as the great storyteller. This should not have been much of a surprise, given other appearances over the past few years by the man who is now Prime Minister. What follows is a Boris Johnson starter sampler.
Prime Minister Boris Johnson turned to reciting the Iliad in the course of a conversation with the Australian Broadcasting Company's Annabel Crabb at the Melbourne Writers Festival this past July.
That reminded me of this bit of brilliance, explaining how Winston Churchill spoke and why it had such power:
Boris Johnson is all for looking to Greek, not Roman civilization, as a source of inspiration for our own polities:
In 2014, while Lord Mayor of London, Johnson held forth on civilization with a glass of wine in one hand throughout: "We should have been ruthless about enforcing assimilation, but it is now too late."
That is enough for a start. Browse as you like, with or without the suggestions of Al Gorithm. If you find something particularly good, among Boris Johnson's years of public communications, please drop a link in the comment section below.
Published in Culture