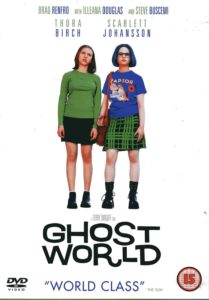 In an earlier post, I explained why Bill Forsyth's Local Hero is my all-time favorite movie. Now I'd like to share another favorite, Terry Zwigoff's Ghost World, and explain why I think it is one of the most conservative movies ever made.
It was released in 2001, and the plot centers on recently graduated Enid (Thora Birch), and her best friend, Rebecca (played by a young and deadpan Scarlett Johansson). They are both unsure what to do now that they are done with high school, but they plan to get jobs and share an apartment. It turns out Enid has not completed her academic requirements for graduation, so she must take an art class during the summer.
Rebecca begins to follow the game plan, getting a job and finding an apartment. Enid becomes more and more aimless, unable to stay long in any job. The scene where she works at the concession stand in a movie theater and recites the sales pitch for the supersize refreshments to a customer while her manager fumes is priceless.
Enid decides to play a prank on someone who posted a personal ad in the newspaper by pretending to answer it and watch him get stood up in a diner. Their victim is an older man, Seymour (Steve Buscemi), who is another hapless person with no direction in life. Enid and Seymour become friends, and he introduces her to his 78 rpm record collecting friends.
As Enid discovers a whole new world through old jazz and blues, she realizes how empty and superficial life in America in 2001 is. The scene where she first hears Skip James' "Devil Got My Woman" is beautiful. For the first time, Enid feels a true artist's real emotion and pain. (Take a minute and a half, and watch it below)
All we see of Enid's town are strip malls. She could be living in any mid-sized American city at the turn of the century. Seymour (see more) is Enid's guide to the old America, before every town and city became homogenized and overrun by McDonalds and Wal-Marts. The Ghost World. Meanwhile, in her art class, it's clear Enid is a gifted artist. Her drawings are beautifully rendered, but her instructor only rewards the students who know how to play the game and come up with hideous "art" that is absurd and ugly. I don't want to go any further, because I don't want to spoil the movie for those who haven't seen it.
So why do I make the claim that Ghost World is a subversively conservative movie? Well, in scene after scene, contemporary American culture is contrasted with earlier eras, and it definitely is found wanting. For example, in one of the first scenes – their high school graduation – some girls perform a "Graduation Rap" that is more like a stripper routine while befuddled parents and teachers smile and nod.
In another, Seymour goes to a music club to hear an old blues legend who is the opening act for a band called Blues Hammer. That's an appropriate name, because they pound the blues into submission with their plodding ZZ Top-like rock. But for the young patrons, that is what the blues are. When the real bluesman comes out to play, Seymour can't hear him, because everyone is talking over him.
Enid's parents are divorced, and the movie is an unflinching portrayal of the damage divorce does to children. When her completely ineffectual and self-absorbed father (Bob Balaban, in a hilarious performance) tells Enid he is getting back together with an old girlfriend, the stoic and superior facade she's maintained up to that point disintegrates, and she runs to her room, weeping.
Enid and Rebecca are friends with a classmate, Josh, but they have no idea how to interact with him. Basic etiquette no longer exists, so all they can do is make crude jokes at his expense. He works in a convenience store where a frequent customer, Doug, always comes in without a shirt, just to antagonize the Greek immigrant shopkeeper. The shopkeeper has a greater sense of propriety than native-born Americans. Doug goes outside and blasts loud music from his car. When the shopkeeper goes out to tell him to turn it down, Doug responds, "It's rock 'n' roll, dude. Freedom of speech!"
The people who fit into contemporary American society are coarse and numb. Enid and Rebecca are dressed according to the early 2000's teen fashion, which means looking as unattractive as possible. They wear ill-fitting tops and army boots. They color their hair in unnatural shades. As Rebecca conforms more and more to expectations, she becomes less and less interesting as a person. As Enid's eyes are opened, she sees remnants of the rich culture her town used to have. She also sees an elderly man waiting for a bus at a defunct stop. She tells him buses no longer stop there, but he assures her one will. By the end of the movie, she is waiting for a bus to take her away from the materialism, ugliness, and superficiality of modern life.
One final word of praise for the soundtrack. Besides the silly Graduation Rap and Blues Hammer track, the majority of songs are old hot jazz and blues tunes taken from real 78s. The highlights are some songs written and performed by Lionel Belasco. He was a composer from Trinidad and Tobago and his music is elegant and beautiful. They have a calypso lilt to them that evokes a lost era, which is perfect for the movie.
Ghost World was marketed as a teen comedy (despite the R rating), but it is certainly not one. It has very funny moments, but it also has far more depth and meaning than most comedies made for that demographic. I'm surprised it was even made, it is such a condemnation of everything Hollywood promotes these days.
Published in Entertainment