Everybody talks about how they'd love to go on a cross-country motorcycle trip, with nothing but a motorcycle and a tent, to see North America for months at a time. I did that. Not once, but twice, in the early 1990s. I had a great time, and I learned a lot. As J.R.R. Tolkien pointed out, all who wander are not lost. I knew what I was doing (or, at least, I thought I did at the time) and I had wonderful experiences that I wouldn't trade for anything. I also wasted a lot of time and effort, but I've forgotten about most of that. I remember the wonderful experiences. Life is funny like that.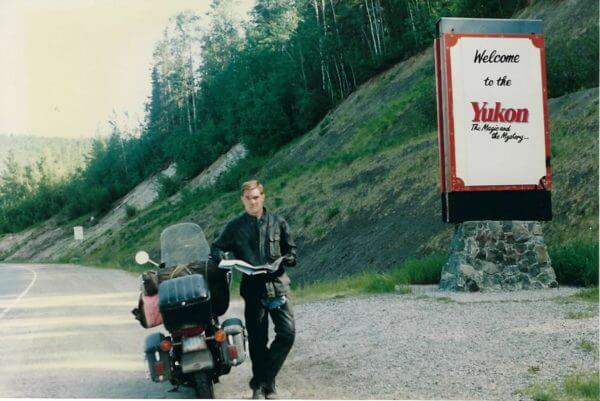 Sometimes, it's good to wander a bit. You never know what you might find. You often find more interesting things when you're not looking for anything in particular. If you feel like wandering a bit, seeking nothing in particular, you're welcome to join me on this appropriately unfocused essay. If you seek a well-organized examination of a specific topic, you might consider scrolling on past. I'll leave it up to you. It might make all the difference to take the road less traveled by. Or it might be a waste of your time. Hard to say, I suppose.
My first trip was right after college graduation – I went with a friend, and we traveled together, making it all the way to Gunnison, CO, when we ran out of money and had to get jobs to pay for the next part of our trip. I was washing dishes at a dude ranch when I was accepted to medical school and left the next morning. My friend had found a girl there, who worked housekeeping at the dude ranch. He stayed a while longer and came back east in a few weeks.
My next trip was after my first year of medical school. I went by myself this time, in an effort to clear my head after a stressful first year. On this trip, I went out through Colorado, turned north at the Rockies, then caught the Alaskan Highway in British Columbia and rode the whole thing, eventually ending up in Fairbanks. I kicked around Alaska a bit, then followed the west coast down, as best I could, and caught a ferry for my bike on the Inside Passage to Vancouver Island. I then continued to follow the west coast down to mid-California, until I had to head home to get back to school.
If you add up both trips, I was on the road, in a tent, for a little over seven months.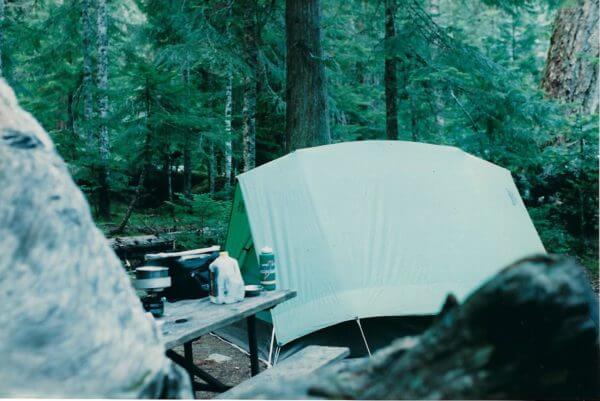 I learned a lot of skills, most of which are unhelpful. I learned how to pack a duffel bag so that soft stuff would be facing forward, so I'd have something comfortable to lean against on my bike. I learned (from an old WWII vet I met at a campsite, who had slept on the ground in Europe for nearly two years), to dig two shallow holes before I set up my tent, appropriately spaced so when I laid out my sleeping bag inside my tent, my shoulders would be in one, and my hips in the other. So much more comfortable. I learned that if you're at a campsite and you tell somebody how nice their RV is, sometimes they'll give you hot dogs and you won't have to eat rice that night. I learned to keep my warm clothes in a garbage bag, so if my duffel bag got soaked in a rainstorm, I'd have something warm and dry to sleep in that night.
I took absolutely no interstates. Back roads the whole way. I stayed in campsites sometimes (especially when I got sick to death of rice and really wanted a hot dog), but really tried to find places to pitch a tent out of the way, by myself. Tent campsites were generally $5-10 per night, so if I could avoid them I could save a couple hundred bucks a month. For example, this picture is my campsite in a gravel pit a few hours from Skagway, Alaska.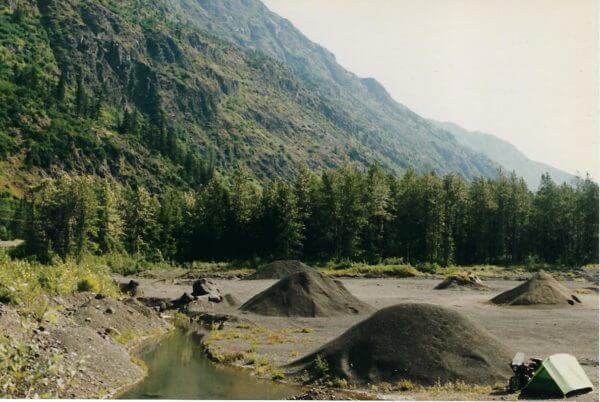 I brought a small Coleman cookstove, and a small Dutch oven, so I could cook nearly anything. But traveling on a budget, I ate a lot of rice. I'd boil the rice with a little bullion, to make it more palatable. Sometimes I'd make pancakes, as demonstrated in this gag picture, in which I pretend to douse the pancakes with bug spray, hoping that internal consumption of DEET would help protect me from the Yukon Air Force (my God, they have mosquitos there).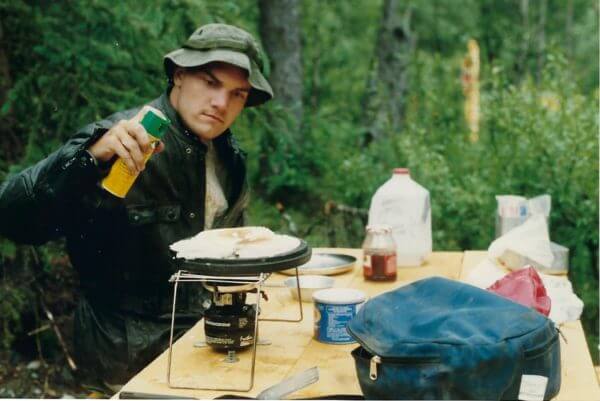 I met a lot of wonderful people. I learned that girls love guys on motorcycles, and I was occasionally distracted from my journey by unforeseen delays that were not my fault. But those delays often gave me an opportunity to get cleaned up, get a decent meal or two, and sleep in a real bed instead of on the ground for a few days. Plus other benefits. But nevermind.
As you can see from this picture of my bike in South Dakota, I rode a Honda Gold Wing. It was the first year they made Gold Wings, 1976 I think, so it was nearly 20 years old at the time. I bought it from a retired janitor at my old high school – he was too old to ride anymore and was pleased that his bike would see more adventures. He sold it to me on the condition that I would return after my trip and show him my pictures.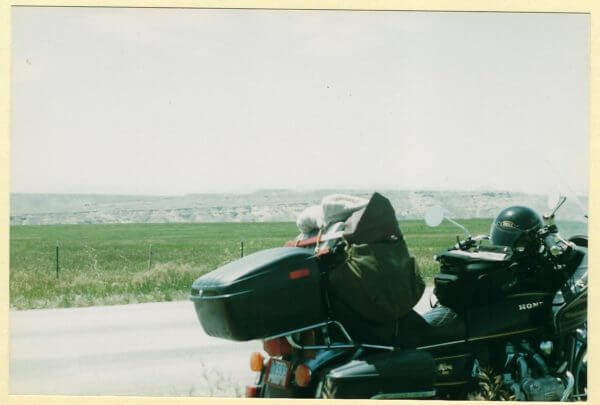 This was before Gold Wings had all the extras – the fairing, saddlebags, etc., are all aftermarket. It was a 1,000cc opposing four, with a nice low center of gravity, and lots of torque. So-so gas mileage. Especially when loaded like this. Shaft drive, thank goodness. Big, heavy, and smooth. Perfect for being overloaded like this on a long trip.
I kept my stuff in a Vietnam-era military duffel bag, which doubled as a backrest. The brown bag on top is my tent, and on top of that is the sweater I wore on and off essentially every day when it got brisk. The red thing behind that is a band saw for firewood, and beneath that is a folded up atlas. This was before internet, cell phones, and GPS. I used a full-face Bell helmet, and had a black tank bag with a clear map compartment on top.
I wore jeans, combat boots, t-shirts, that sweater, a black leather jacket, and black leather chaps essentially every day for seven months. This picture from the lava beds in central Oregon was my typical wardrobe. What can I say – I've always been a fashion plate.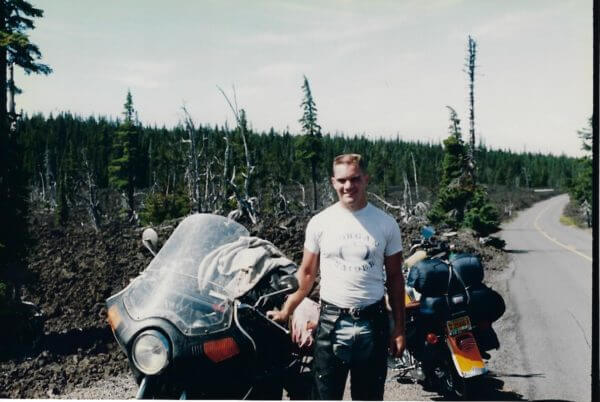 I had a few close scrapes, but the only time I felt that I had a real problem was on June 16, 1992, in northeast Yellowstone Park. The weather was getting worse and worse – it was around 40F and driving rain. I was starting to wonder how much more of this I could stand, when I saw a convenient spot to camp, in a discreet place maybe 50 yards off the road, on a trail which my bike could handle even in the rain.
Of course, when you set up a tent in a rainstorm, everything gets wet. So I crawled into my wet sleeping bag in my wet clothes and piled everything I could find on top of me, to try to stay warm. I froze my tail off all night – too cold to sleep. But the noise from the rain finally stopped in the middle of the night, so I figured I'd be out of there at first light. When the sun came up I stuck my nose out of the tent and found six inches of snow. I was stuck.
I stayed in my sleeping bag for four days and nights, trying to stay warm. I'd cook rice on my cookstove inside the tent, and it warmed it up a bit, but I would get a headache from the carbon monoxide, and would have to air out the tent with cold, wet air. Reading my journal from those days is rough. That was a low point.
But in general, I had just a wonderful time. And the bad times fade in memory, while the good times become more prominent.
Not long after the fiasco in Wyoming, I met a nice girl who worked at a truck stop in British Columbia and we camped on the beach of a lovely lake there for a few days. The picture is of me complaining to her while she screws around with my camera. It's amazing how much fun you can have on a few dollars a day. Now I live with an absolutely wonderful woman in a million-dollar house on a golf course in Hilton Head and sometimes I'm miserable. Strange, isn't it?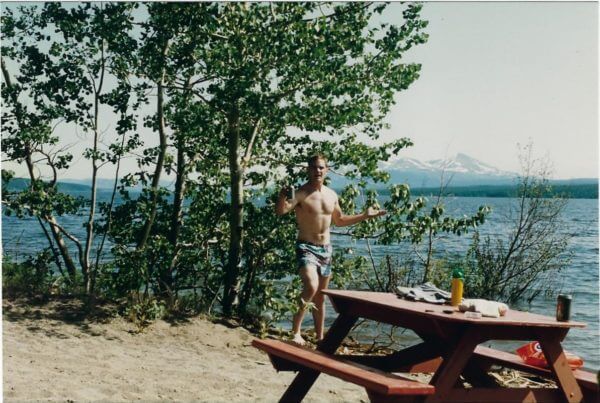 I could go on and on, but you have better things to do and so do I. More important things, at least.
I've had a wonderful life so far. I can't complain but sometimes I still do. I have no idea why.
If I retire someday, I'd love to wander around a bit more. It's amazing the stuff you find when you're not looking for anything in particular.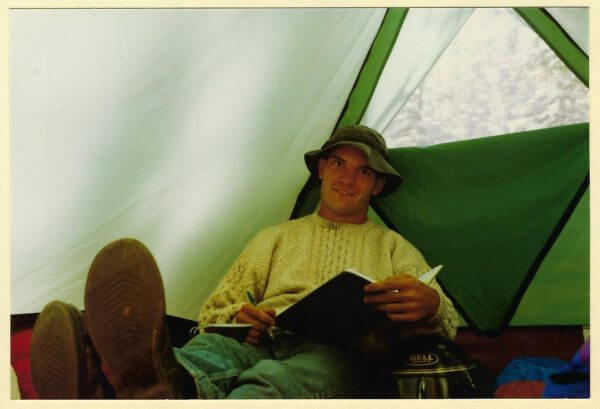 Published in General