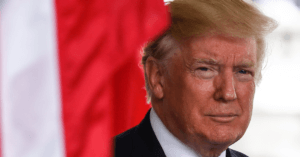 House Speaker Nancy Pelosi and her committee chairmen have put forward articles of impeachment against President Donald Trump. Democrats have wanted to impeach Trump since the first day of his presidency (and before) and are trying for the fourth time now in the House.
On the day of Trump's inauguration, January 20, 2017, the Washington Post's "investigations editor," Matea Gold, authored an article titled "The Campaign to Impeach President Trump Has Begun." The article was published online at 12:17 PM EST, approximately the same time that Trump was raising his hand and swearing the presidential oath of office.
On December 6, 2017, 58 Democrats voted to impeach Trump for the "high crime" of stating his opinion on Twitter about NFL players who knelt during the national anthem. Trump thought these players should be fired. Maybe you disagree with him, but is it a "high crime" for the president to engage in constitutionally protected speech?
On January 19, 2018, 66 Democrats voted to impeach Trump for the "high crime" of allegedly referring to certain Caribbean and African countries using an expletive, during a closed door meeting in the Oval Office. The allegation was made anonymously by persons who acknowledged they were not in the room at the time of the alleged statement. Multiple United States Senators, who were present in the room, stated on the record that the allegation was false. But even if it was true that he said it, was it a "high crime"?
On July 17, 2019, 95 Democrats voted to impeach Trump for the "high crime" of insulting "the Squad" on Twitter. If you don't know, "the Squad" is made up of ultra-Left freshmen Democrat Representatives Alexandria Ocasio-Cortez, Ihlan Omar, Rashida Tlaib, and the other one whose name no one can ever remember. Tlaib, you may remember, gained national fame back in January by proclaiming to supporters the day she was sworn in to office that she had told her son she was going to Washington to "impeach the motherf—er." Ocasio-Cortez is famous for wanting to ban cow farts in her "Green New Deal" legislation. Trump suggested that the "Squad" should go back to their home districts (NYC, Detroit, Minneapolis, and Boston), fix the problems there and then show the rest of us how it's done. This is a "high crime"?
Democrats have settled on "Abuse of Power" and "Contempt of Congress" after their previous failures. The abuse of power charge comes from a phone conversation that Trump had with the president of Ukraine, Volodomyr Zelensky, in July. Democrats allege that on the call Trump pressured Zelensky to investigate former vice president Joe Biden, in a corrupt "quid pro quo."
However, Trump released the official White House transcript of the call, which shows no such pressure. Zelensky has stated he felt no pressure. Democrats that tried to allege that the transcript was incomplete. However, their own star witness, Alex Vindman, testified that the transcript was complete and had no substantive omissions.
Despite months of talk about "quid pro quo," Democrats have abandoned that line of argument due to lack of evidence. They also briefly flirted with impeaching Trump for "Bribery" because bribery is specifically mentioned in the Constitution as an impeachable act and because reportedly focus groups found that the word "bribery" polled better than "quid pro quo."
However, since there's no evidence of bribery, the Democrats have been reduced to vague accusations of "abuse of power," a meaningless term that really just means that Trump is using his Constitutional authority as president in ways that Democrats don't like. The "contempt of Congress" charge amounts to Trump refusing to help Democrats impeach him for no reason. A recent Economist/YouGov poll shows just 16% job approval among registered voters for Congress. Perhaps Congress should file articles of impeachment for contempt of congress against the 63% of voters who disapprove of Congress in the same poll.
It's OK for Democrats to not like Trump and to disagree with his policy agenda. However, impeachment is not the answer to simple political disagreements.
And that's really the issue here: Democrats don't like Trump and don't want him to be president. Conveniently, there's a presidential election next year in which Democrats will have the opportunity to defeat Trump at the ballot box. So why aren't Democrats focusing their energy on that?
On May 4, 2019, Rep. Al Green (D-TX) told MSNBC, "I'm concerned if we don't impeach this president, he will get re-elected."
Published in Politics