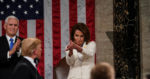 It is not often that either Chris Mathews or Joe Scarborough are right about anything. But a couple of weeks ago, on the same day, they both used their own words to speculate that the nation was on the verge of a crisis that would endanger its very existence. Of course, they were dead wrong about what the crisis was or the reasons for the danger. As a matter of disclaimer I would like to make it clear that I did not go on an MSNBC binge. I picked up these insights from short clips. Long ago I determined that MSNBC should only be consumed with accompanying dozes of good Irish whiskey. And, unlike Irish whiskey, MSNBC should always be restricted to short, well-spaced dozes. The whiskey is always more enlightening, honest and clarifying.
Our Republic is in the middle of just the latest attack on its very nature and purpose. But it is one of the most severe and is made possible by a decades-long campaign against a culture of individual liberty which was that Republic's springboard. The immediate threat is a knife-to-the-heart-of-self-government impeachment farce to remove a duly elected president without cause. The overall threat can go by many names but currently can best be titled modern progressivism.
Its goal has always be the out-right destruction of our Constitution, hence our rights; our individual choices. Over a century ago, a wise reader could easily have seen this nail in the coffin of constitutional self-government in the writings of Woodrow Wilson before he ever stumbled into the governorship of New Jersey and then a split-ballot presidential election.
When James Madison rose at the Constitutional Convention to challenge George Mason's suggestion to add the fat too broad "maladministration" to the causes for impeachment, this present circus was exactly the type of thing he wanted to prevent. For as he and almost all of the Framers knew, removal by reason of personality, momentary popularity, policy disagreement and any number of other partisan or personal charges destroys the bedrock of constitutional self-governance. Removal for other than specific, defined, proven actual behavior is simply overruling valid elections. This present circus is exactly what Hamilton feared in Federalist 65 which has mischaracterized so often in trying come up with anything that resembles a logical and constitutional basis for the impeachment sham. This merely places the presidency (of anyone) at the whim of the House and destroys the basic concept of divided powers, which Hamilton described as a death sentence to our divided system of government.
These observations are hardly new and I claim no great insight. It can be easily seen that this impeachment began even before Trump was sworn in. It has nothing to do with a very appropriate phone call to another national leader, or intrigue with Russian operatives or an imagined obstruction of Congress by merely exercising the rights of a separate and equal branch.
This impeachment is the latest step in a process to destroy our constitutional order which began well over a hundred years ago. It has been in the works that long and has taken that long to reach this point. Dismantling the constitutional order has been the progressive's goal from the beginning. And any who cheer on this latest attack on that order for whatever reason are accomplices in advancing that goal to new lengths.
Regardless if you care to refer to the attackers as progressives, leftists, utopians, communists, socialists or statists, their objectives will always end in the restriction if not the elimination of MY liberty. There is no respect for individual choice, property rights, personal religious conscience, economic freedom or even human life. And that includes your liberty as well.
These natural, divinely delivered rights are far more important to this generation and all those to follow than your or my opinion of anyone president's vocabulary, demeanor, tweets, manners or even his supposed character. I see no greater character flaw in a public official than behavior that will take away my liberty. Government healthcare, growing heavy-handed government regulations, turning a back on border control measures and failing to call out liberty killing "climate change" demands for what they present a far greater threat to the Founders/Framers visionary gift than anything done by this president. To fail to kill Obama Care when given the chance is a far greater betrayal of the Constitution than a phone call to a fellow foreign leader or a course tweet.
All of us need to acknowledge that the decades-long path which brought us here has for the most part been a comfortable one, made comfortable by those who should have been fighting the hardest. Since 1928, there have only been two periods in which the progressive agenda has not advanced steadily – the Reagan administration and the present one. Certainly, there were three "great leaps" under FDR, LBJ and BHO but the advance continued in all the other times as well.
For the most part, the leadership of the political party which should have stood the firmest against this trend accepted it – only in smaller and slower portions. "Progressives" like Woodrow Wilson were writing before the turn of the 20th century about ways to step pass the constitutional order to better serve the progressive goals that it obstructed. Of course, as Wilson suggested, one of the most important was to attack through the unelected courts. This has been the left's most successful method of overturning both plain constitutional language and public will.
The last three years have given us the most successful turn-around of the courts to date. Certainly, we have added one fairly good constitutional jurist to the Supreme Court and another whom I suspect will not measure quite so well but be a vast improvement over ANY appointment by a Democratic president. But probably the greatest impact has come from the appointments in the lower courts. It will not be long before over 20% of these judges will have been confirmed during this administration. In three days of Stalin-like congressional meetings last week, eight more judges were confirmed.
Regardless of the stage in which we find ourselves in this sham of an impeachment drama, it should be apparent to even a bias anti-Trumpian what a "star chamber" event it is. A self-governing republic can never be served, only undermined, by such doings.
Over the last hundred or so years the resistance to the steady and forceful march of the left has been greatly undermined by a self-serving, often docile, comfortable establishment elite of the "opposition party" and a conservative pundit class who were much more political intelligentsia than grass-roots conservative. It has been the grassroots which have been stirred and finally panicked by the excess of the left and their agenda. These grassroots waited – and waited – and waited some more for their "leaders" to actually fight back. They instinctively knew that fighting back is not merely slowing down the progressive march but stopping it and hopefully to begin a slow process of gaining back some ground.
These grassroots finally screamed at their "leaders" through a truly grassroots Tea Party Movement. But in the end, these mere peasants were abandoned by those "leaders", dismissed as "wacko-birds" or well-intentioned amateurs after they were mined for some votes.
For those who seem to have should a hard time understanding the election of and support for Trump, I will try and give a poor peasant's simple appraisal. Those grassroots have and have had an urgent sense of how dangerous and advanced the left's agenda is. They don't trust the political class to fight hard enough to save the American culture. They understand that this agenda not only has to be defied but stopped, reversed and hopefully defeated. Trump is the symbol of that defiance. But he is not the embodiment of it. But so far, he has certainly been its instrument.
The hard truth for all the "conservative" pundits who can stroke their chins in measured conversations is that in less than a full term Donald Trump has done more to advance liberty-based policy and undermine leftist agenda than all of the career politicos and academic think-tanks wizards put together. And he didn't do it by virtue of his long-studied reflection or a courtly manner toward those who would destroy our liberty, regardless of the pace.
This president was elected because that grassroots believed he would try and do just what he said he would, which the majority of elected GOP politicos were not doing. And so far, they were right. He has not been helped very much by the political class members of his own party but he has moved the ball and actually made a few stops on third down.
If you agree or not, the nation can be grateful for the work of most House Republicans. I doubt the Senate GOP members will be as great but I can hope, for the sake of the nation.
To reject and denounce this impeachment is not to defend Donald Trump. You do not have to accept his policies, personality or even his behavior. What HAS to be defended here is the basic principles of the Manga Carta. And all centuries it took to reach a point in history so that the Carta could take place. And the almost eight centuries since when an accumulation of experience with common law, enlightenment and various forms of tyranny melted together to give our Founders/Framers a unique moment in time to create a gift to us. Those Founders/Framers did not pass on to us mob responsive parliamentary system. They left us a system based on basic rights and responsible process.
To accept this impeachment is to accept tyranny based on your dislike for a personality. Regardless of the excuse, tyranny for any reason only strengthens the next tyranny. And it, by its nature, reduces liberty for everyone. When Donald Trump's liberty is violated so is My liberty and so is Yours.
Published in General