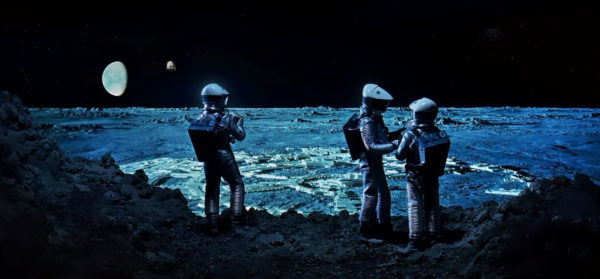 I have the Blu-ray of Stanley Kubrick's 2001: A Space Odyssey and had been watching the film on Turner Classic Movies as I puttered around on the computer this morning. My brothers and I originally saw the film when it was first released on a curved Cinerama screen at one of the Century domed theaters in San Jose, CA (adjacent to the Winchester Mystery House). It's the same Cinerama theater that my brothers and I watched John Frankenheimer's Grand Prix when it was first released.
The wonderful thing about the curved Cinerama screen was that if you sat toward the middle of the theater a few rows closer to the screen than the exact middle, each edge of the curved screen could be seen with your peripheral vision, which gave you the effect of more complete immersion into the film. For films like Grand Prix, this had a powerful effect, especially in the opening sequence shot on the Monaco Grand Prix course with cameras mounted on the cars.
As I glanced up at my TV playing 2001, I noticed that the TCM version (probably the same as the Blu-ray) is still not in the aspect ratio of the film that was run through the camera and the aspect ratio shown in the original theatrical release — which is even narrower.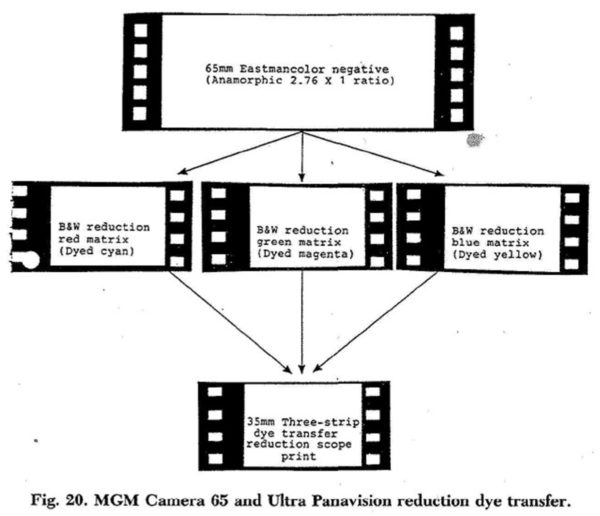 From Forbes magazine last year:
"No previous release of 2001: A Space Odyssey achieved the accurate aspect ratio that this 4K UHD release achieves. The new version was created by directly scanning a perfectly preserved spherical (i.e. flat) original 65mm negative of the film at 8K resolution, instead of the previously used 35 mm anamorphic version scanned for prior DVD/Blu-ray releases.

The use of modern color correction techniques and color grading combined with the vastly improved 8K resolution scan has created a spectacular visual result. Everything appears more real — many of 2001's outer space sequences look more convincing than the most expensive sci-fi VFX from recent movies — and thus generates greater sense of awe, suspense, and reflection for the viewer."
There has been a lot of criticism of the film over the years, especially from audiences raised on more fast-paced action films like Star Wars, Indiana Jones, and other more intense action movies. By today's standards, 2001 is ponderously slow. Of course, the pace was also deliberate and meant to be a more realistic depiction of what space travel would be like.
Watching 2001 on a small screen – even a 60- or 70-inch HDTV will still never replicate the experience of more total immersion in a theater with a curved Cinerama screen – the wide vistas of the African plain in the opening scenes, the interior of the Jupiter spacecraft as Dr. Frank Poole (Gary Lockwood) jogs sideways around its interior. Kubrick and Arthur C. Clarke were at least sticklers for accuracy when it came to how to deal with weightlessness in space and astronauts Poole and Bowman are "grounded" because of the spacecraft's centrifugal force. This gave Kubrick the idea of turning the camera sideways which communicates to the audience that they are looking at something otherworldly and impossible to do on Earth. Weightlessness is something that more current filmmakers simply chuck out the window rather than having to deal with the logic or reality of it.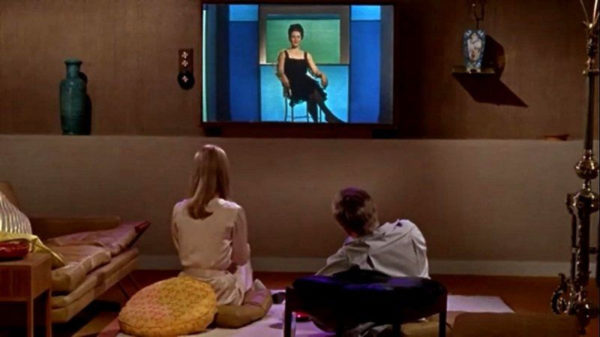 If you watch Truffaut's version of Ray Bradbury's Fahrenheit 451, the TV screen shown in Montag's (Oscar Werner) home, in front of which, his wife Linda (Julie Christie) is constantly fixated, is comparable or even smaller than many flat-panel TVs sold today. At some point in the future, my guess is that new homes will be built with entire walls that are television screens and perhaps several walls throughout the home. And yet, even if that were to come to pass, those larger screens – perhaps 20 to 30 feet wide and 14 feet or so high — will still not be able to replicate what the Cinerama screen was able to do … even if they are curved wall screens.
When I was 14- or 15-years-old, while visiting our cousins in the Seattle/Tacoma area, I showed my uncle, who was an engineer for Lockheed, a rough sketch I had made of a theater design. The theater was shaped like an enormous egg laying on its side. The audience seating would be reclined and at the base of the egg across a convex-curved floor, so that no matter where one sat, other audience members would (for the most part) fall away from one's peripheral vision and not be a distraction. Meanwhile, the interior surface of the shell would be an enormous curved movie screen (or a multitude of screens) that would envelop the audience almost no matter where they happened to glance or follow something moving across engulfing their entire field of vision. My uncle was somewhat impressed with the concept and said that NASA might be interested in such a theater for astronaut training. Of course, a completely spherical theater filled with water that astronauts would float in while images of the Earth, Mars, the Moon, or some other planet from space are projected might be even more realistic.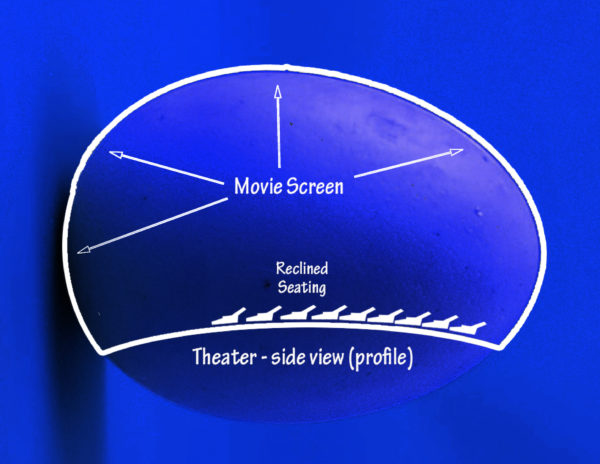 Since the future seems to be moving away from traditional theaters in favor of home viewing and VR goggles, more elaborate fanciful immersive theater designs — even ones shaped like eggs — are really no longer necessary. Though, home viewing and VR goggles, in my humble opinion, make the movie experience more, well, selfish and less about a communally-shared experience where you can see, hear, and experience the emotions of hundreds of people all at the same time as they react to an actor's face that takes up the entire screen or some subtle or more outrageous effect shown some 30 feet high by 90 feet wide. Ah, well.
Join the Ricochet Film Society Group — A place to discuss new and classic films. Keep members informed about new, noteworthy and must-see films or classic films newly released for streaming or on Blu-ray. Discussions also explore the technological innovations being used or on the horizon for filmmaking or for home viewing.
Published in General