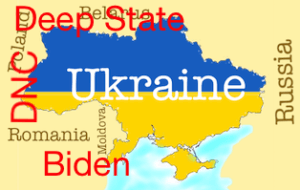 Reportedly, Ukraine has been one of the most corrupt countries on the face of the Earth. This is likely not a matter of some sort of defective national character, but rather a consequence of their geography and the past century of politics. Today, Putin, Democrats, and the US Deep State leverage Ukraine's vulnerability to their own ends.
Anne Applebaum has done the real research and written the hard truths to power about evil perpetrated by the Soviet Union, including in Ukraine. Consider this MacClean's interview of Applebaum on publication of her latest book, Red Famine: Stalin's War on Ukraine.
Q: Part of the history is that the Holodomor didn't come out of the blue. There has been a long continuity of attitude in Moscow—a contempt for Ukrainian nationalism—running through the Czarist, Soviet and post-Soviet eras. One of the more striking instances of continuity was Lenin sending in Russian troops in Ukrainian disguise during the Civil War, which almost a century later became a Putin tactic.

A: Several people have picked up on that. There were a couple of other similar moments, various tricks meant to undermine Ukraine, including Stalin at one point setting up mini-republics in Donbass, Odessa and elsewhere as a way of distracting and disorienting Ukraine. There is a kind of KGB playbook based on previous KGB practice and before them NKVD and Cheka and even Czarist tactics, used to manipulate minority nationalities. There's a very old tradition of doing that in that region.
As a matter of geography, Ukraine has long been important to rulers in Moscow. Stalin murdered over 4 million Ukrainians almost a decade before Hitler's Wannsee Conference. Stalin depopulated Ukraine through the instrument of forced, artificial famine, liquidating those who had a culture of self-reliance through farming their own land. Stalin then moved loyal Russians in to establish local political control. It is this population, and its children and grandchildren, who form the basis of disruption and the excuse for Russian intervention (to protect Russians).
Intertwined with the demographic replacement policy was the fundamental corruption of the communist system. The people who operated the system did not disappear, and they were not all imprisoned or executed after the fall of the Soviet Union. Instead, they leveraged their party influence into nominally lawful transfers or creation of title to the nation's assets, as in Russia.
How bad did it get? Consider this 2015 Guardian account of corruption in Ukraine:
Kiev has a grand opera house, cathedrals, chain stores, sweeping central avenues, a metro, everything required to make a place look European. But it resembles a modern European capital city only in the way the Cancer Institute resembles a hospital. Transparency International's Corruption Perceptions Index – the most widely used indicator of corruption worldwide – rates Ukraine 142nd in the world, alongside Uganda. In the latest ranking, it fell behind Nigeria.

Since 1991, officials, members of parliament and businessmen have created complex and highly lucrative schemes to plunder the state budget. The theft has crippled Ukraine. The economy was as large as Poland's at independence, now it is a third of the size. Ordinary Ukrainians have seen their living standards stagnate, while a handful of oligarchs have become billionaires.

Public fury has fuelled two revolutions. In 2004, street protests helped Viktor Yushchenko defeat an attempt by the then prime minister Viktor Yanukovych to rig the presidential election. During his five years in power, however, Yushchenko failed to dislodge the networks of patronage. Amid widespread disillusionment, he lost the 2010 election to Yanukovych, who was in turn driven out in February 2014, after corruption mutated into still more virulent forms.

Officials from the general prosecutor's office, who were interviewed by Reuters, claimed that between 2010 and 2014, officials were stealing a fifth of the country's national output every year. This behaviour has infected all sectors of Ukrainian society. President Yanukovych lived in a vast palace on the edge of Kiev. After he fled, protesters found millions of dollars worth of paintings, icons, books and ceramics stacked in his garage. He'd had nowhere to display them.
Transparency International provides an indicator of elite perception of corruption:
The index, which ranks 180 countries and territories by their perceived levels of public sector corruption according to experts and businesspeople, uses a scale of 0 to 100, where 0 is highly corrupt and 100 is very clean. More than two-thirds of countries score below 50 on this year's CPI, with an average score of just 43.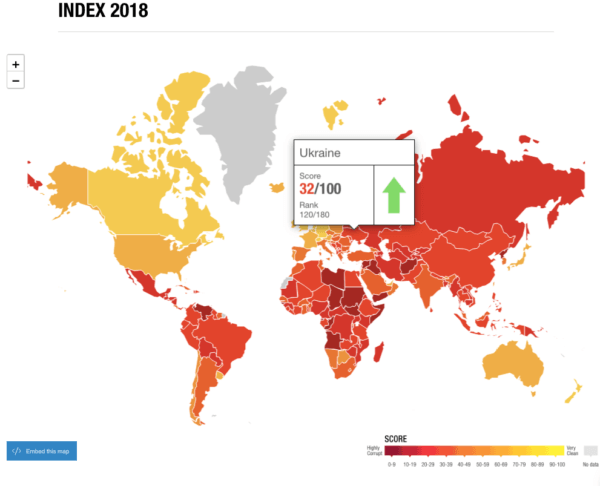 Anne Applebaum pointed out in 2017 that Putin's meddling and invasion was consistent with long Russian practice, and that there is a deep fear that if Ukraine could clean up its own act, that example would challenge the Russian kleptocracy's narrative of national necessity. Russians might get a taste for honest, lawful society themselves.
In 2014, Russian officials looked with horror at the young people waving European flags and calling for democracy in Kiev's Maidan Square and were determined to make sure such a movement would never spread to Russia itself: A mass anti-corruption protest — particularly one that ends with occupation of the dictator's palace — is what Russia's corrupt oligarchs fear most. Putin witnessed exactly that kind of "chaos" as a young KGB officer in Dresden in 1989, when the fall of the Berlin Wall struck him as catastrophic. He now blames protests against him on "foreign agents" and Hillary Clinton.

But the need to control Ukraine also has important roots in Russia's historical memory, and the KGB's. Turbulence in Ukraine hits panic buttons, because anarchy in the Soviet Union's agricultural heartland has nearly destabilized Moscow more than once. Perhaps the best way to explain Putin's paranoia and covetousness toward Kiev is this: Russia remembers those moments well.

Russian unease about Ukraine goes back to the very beginning of the Soviet Union, in 1917, when the Ukrainians first tried to set up their own state. During the civil war that followed the revolutions in Moscow and Kiev, Ukrainian peasants — radical, left wing and anti-Bolshevik all at once — rejected the imposition of Soviet rule. They pushed out the Red Army and, for a time, had the upper hand. But in the anarchy that followed the Red Army's retreat, Polish armies as well as the Czarist White Army reentered Ukraine. One White general, Anton Denikin, crossed into Russia and came within 200 miles of Moscow, nearly ending the revolution before it really got underway.
So, Ukraine became a great place for crooked business, wrapped in a tissue of legality as needed. You can see how that, and China, would be very attractive to American politicians who make their family fortunes by leveraging their political offices. This corrupt practice is bipartisan and mostly technically legal…because the crooks are writing the laws for themselves!
John Hinderaker leveraged his guest hosting of the Phoenix AM 960 The Patriot's Seth Leibsohn Show to conduct a long-form interview with Andrew McCarthy: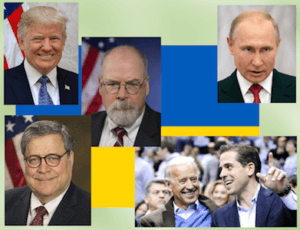 Hinderaker agreed with McCarthy that there was a real scandal in Ukraine; it was a $3 million bribe to the Biden family. McCarthy suggested that it might not be "illegal" because the crooks in Congress wrote the laws to let themselves be "legally" bribed. McCarthy cited Peter Schweizer's latest work Secret Empires: How the American Political Class Hides Corruption and Enriches Family and Friends. This is the latest in a series of Schweizer's books that have no party political agenda, but rather have cataloged and warned against the inherent danger and corruption of a concentration of power in the federal government.
With this background, consider the following stream of tweets by Rudy Giuliani:
The Accounts Chamber in Ukraine found an alleged misuse of $5.3B in U.S. funds during the Obama administration while Biden was "Point Man."

Obama embassy urged Ukrainian police NOT to investigate!

Stay tuned to find out why.
7:36 PM – 5 Dec 2019

Shocking disclosure:

Much of the $5.3B in US Aid Ukraine reported as misused was given to the embassy's favored NGO's.

At the time Yovanovitch, witness for the Witchunt, was the Amb. That embassy directed the police not to investigate.

Wonder why Obama forgot Art. 2, Sec. 3.
4:53 AM – 6 Dec 2019

Presidential Legal Obligations 101:

Art 2, Sec. 3 of the US Constitution obligates the President to investigate and ask for investigations of corruption in countries we provide funds to.

Who ever heard of a president being impeached for carrying out his constitutional mandate?
4:55 AM – 6 Dec 2019

It comes as a huge shock to Democrats that @realDonaldTrump will ask for investigations concerning violations of US laws & misused hard-earned tax payer dollars.

It's called his legal obligation under Article 2, Sec. 3 of the US Constitution. Ignored by Obama.
5:54 AM – 6 Dec 2019

In reviewing my notes, it seems to me that a large scale joint investigation into Ukraine and the US would uncover and recover billions stolen by crooks, from both countries, at the highest levels.

This would be the most effective way to bring our two countries together.
9:34 AM – 6 Dec 2019
The Epoch Times provides some real reporting on these claims:
Giuliani did not offer any evidence for his claim. The day before, he wrote that the misuse was discovered by the "Accounts Chamber" in Ukraine, an apparent reference to Ukraine's Accounting Chamber. The Accounting Chamber is an audit body for Ukraine's parliament and acts as a watchdog over the state budget.

Giuliani leveled the allegation on the heels of a trip to Europe during which he met and interviewed several former Ukrainian officials, including Yuriy Lutsenko, Viktor Shokin, and Andrii Telizhenko. Shokin, Lutsenko, and Telizhenko have previously alleged misconduct by Obama-administration officials, including Yovanovitch and former Vice President Joe Biden.

One America News (OAN) filmed Giuliani's interviews with the officials. The channel is scheduled to air the exclusive interview in a two-part series on Dec. 7 and 8. OAN claims the program will "debunk" the Democrat narrative at the center of the impeachment proceedings against Trump.
So, the upstart rival to Fox News, OAN, is making a move to generate original news coverage of a major political story, and to do so in a way that grabs viewership from Fox News. Have they done their due diligence in putting together the story? We will see. I note that searching on "Accounts Chamber" or "Ukraine's Accounting Chamber" yields little US coverage. I had never heard of this entity before, and neither had our professional media, by all appearances.
As it turns out, they have a webpage, with a header: "The Accounting Chamber: Supreme Audit Institution of Ukraine."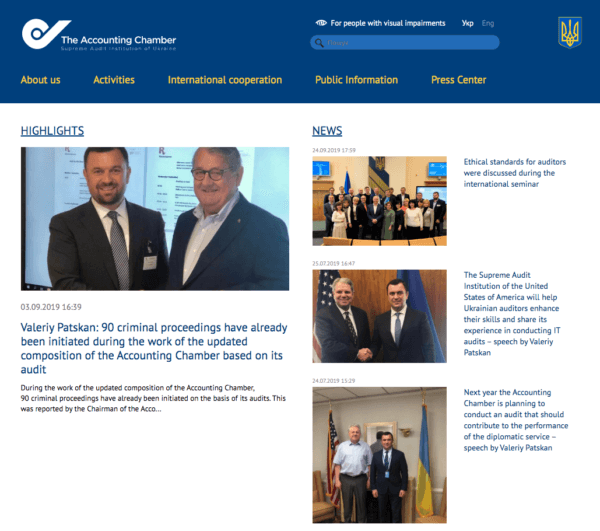 During the work of the updated composition of the Accounting Chamber, 90 criminal proceedings have already been initiated on the basis of its audits. This was reported by the Chairman of the Accounting Chamber Valeriy Patskan, during the meeting in Oslo with the Auditor General of the Kingdom of Norway, Per-Christian Foss.

Valeriy Patskan noted that reducing corruption is one of the major challenges Ukraine faces today and the Accounting Chamber plays a key role in this process. He admitted that one of the components of the fight against corruption is prevention of inefficient use of funds of each taxpayer. "One of the key tasks that I set for myself and our team is performance. We do not want to write "tick" reports. We want our recommendations to be 100% taken into account by the authorities, and those who are guilty of misappropriation of funds should be prosecuted," Valeriy Patskan said.

[…]

Valeriy Patskan also recalled that last year the Accounting Chamber checked 598 auditees and found violations about 17 billion UAH in total. These violations are budgetary and other legislation, inefficient management and use of budget funds, property, funds of international organizations.
UAH is the Ukrainian Hryvnia, their unit of currency. Seventeen billion UAH are roughly 717 million US dollars. It is also equal to the total of reported private saving accumulated in Ukraine in 2018. The identified, documented, misuse of public funds, or funds flowing through government processes, was equal to annual total effort of citizens to accumulate savings.
We are not given the time frame for the violations, nor is there any claim that this is anything close to whatever the real total might be. What we go get is a clear picture of what has been an attractive nuisance for international fraudsters. It is likely that Americans in positions of political influence after the fall of the Soviet Union got their piece of the action. It is likely that the "foreign policy consensus" bakes that reality into its positions, not wishing to alienate our own political elite.
Published in Politics