In 1955, there was a competition between the three armed services for the right to launch the first American satellite during the International Geophysical Year (actually 18 months 7/57-12/58). The Naval Research Lab won. As some of you know, my father co-wrote the proposal. He worked on the Minitrack system and designed the small test satellites.
On October 2, 1957, a memo went out that there would be no more paid overtime. Two days later, Sputnik 1 was launched and the memo was ignored. Sputnik's signal was at 20 and 40 MHz whereas the IGY specified 108 MHz. That night, Dad called his assistant Marty Votaw and told him that the Soviets had launched a satellite. Marty responded, "Good, now we know it can be done." Dad responded that they needed to track it. Marty asked if he could finish dinner first. Dad said yes, but come down immediately after that. They worked for three days without going home and modified Minitrack successfully to track Sputnik.
Below are IGY and Vanguard people at NRL in April 1957. The big IGY guns are in the first row. Van Allen is probably the best known (Van Allen Belts). My father and Marty Votaw are the top left.
A month later the Soviets launched Sputnik 2 with a dog on it. The pressure on the Eisenhower administration increased. The first test of Vanguard with all three stages live was scheduled for December. The Vanguardians thought it had a small chance of working. Alas, it blew up and was dubbed Flopnik.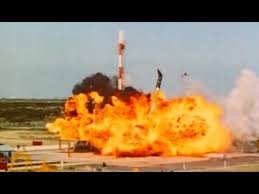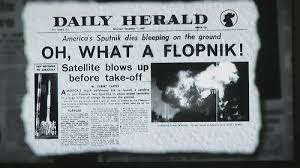 After the hoped-for satellite cooled down, it was brought to Marty who gave it to my father. Marty asked. "What should we do with it?" Dad replied, "I guess we should bring it back." Dad carried it on a commercial flight back to Washington. It sat in our house overnight and is now in the National Air and Space Museum.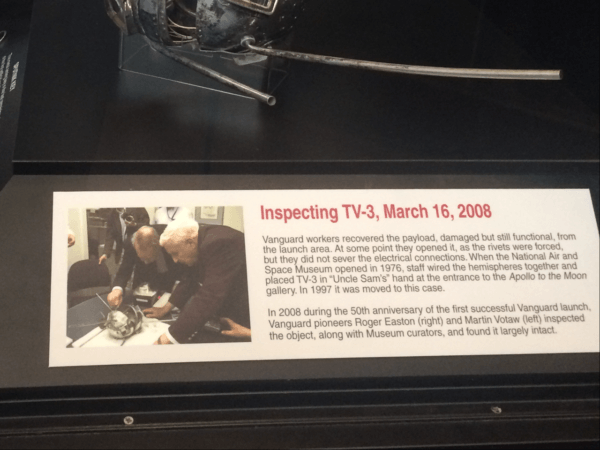 Explorer 1 was launched by the Army in January 1958. Vanguard 1 was successfully launched in March and is the oldest satellite still in orbit. I recently moved and found a binder full of primary source materials for Vanguard. I could post some of them if there's interest.
Vanguardians discussed TV-3 and Vanguard 1 in 2008.
.
Published in Science & Technology