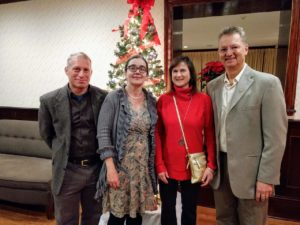 Thursday evening, Papa Toad and I went to an event with Tony German, a retired two-star general (when he retired, Tony was Adjutant General of the New York National Guard, leading 20,000 airmen, sailors, soldiers, and civilian staff) who is seeking to unseat our one-term useless congressman, Antonio Delgado.
I first heard of Tony about a month ago when, out of the blue, I found a message from him on my home phone, telling me he was running for the nomination and hoped to speak to me to find out what issues were important to me. I was quite impressed, and, I admit, flattered. I called him back and left a message for Tony to the effect that I was heartened to hear his message, and that I hoped he would kick some [redacted] and that we would be praying for him. Tony called me back and we had a good long chat about the state of the state, and what could be done at the federal level to improve things.
When we heard Tony was having a fundraiser nearby, we made sure to get to it. It was a lovely event with an open bar, fantastic hors d'oeuvres, but not many people. His wife Diana was very pleasant and, as homeschooling moms (hers all graduated, me with three still at home), we found much to talk about. I offered to host some kind of event for Tony at my home, and was in touch with his staff this morning to make that happen in the near future.
It was so heartening to meet someone with leadership experience and a strong desire to serve his country with integrity. The election in 2018 had lots of mudslinging and negative mailings, so I hope that Tony can fight and, more importantly, fight dirty fighters. There are a couple of other declared candidates, but I've never heard their names. We'll see what happens.
What is the landscape like in your district? Is your seat Republican? Democrat? I want us to flip the House in 2020, so I'm curious.
Published in Elections, Politics