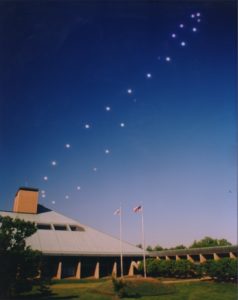 It's that time of year. Feeling gloomy? Perhaps it's the shorter days of the season. Indeed, there's a lot less sunlight. The afternoons seem to be particularly short.
Well, I have good news; this is Analemma Day. This is the day of the earliest sunset in most of the northern hemisphere. After today, we're over the hump, and the afternoons get progressively longer.
"What? I thought the shortest day of the year was the winter solstice, December 21."
Indeed it is. But the earth's orbit is elliptical, and "local noon" moves back and forth a bit.
If you set up a camera outside, with a timer set to pop off a shot at noon each day, of course you'd see the sun higher in the summer and lower in the winter. But you'd also see the sun moving back and forth, and overall make the shape of a figure eight of sorts. This is the analemma.
So while the shortest day is December 21, today is the day of the earliest sunset.
The Analemma Wikipedia Page is pretty good.
Published in General