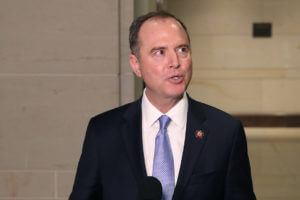 There's a lot of attention being paid to this impeachment theater, but why isn't there more outrage about Adam Schiff's subpoena of the phone records? I know Congress has the power of subpoena, but a conventional subpoena has to go through a court where probable cause must be demonstrated. Is there no restriction if Congress does it?
Schiff subpoenaed the records of a fellow member of Congress (Devin Nunes), a journalist (John Solomon), and the president's personal lawyer (Rudi Giuliani).
Not only was Schiff trampling on due process and the Fourth Amendment, but he threw in the First Amendment, separation of powers, and attorney client privilege as well.
The victims need to sue and take this all the way to the Supreme Court if necessary. Justice demands that Congress should demonstrate the same level of probable cause that a prosecutor would have to show, or our rights as citizens mean nothing.
If Schiff can disregard the rights of those people, what chance do you and I have?
Published in Politics