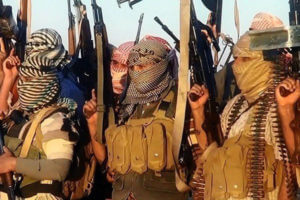 We haven't had a major terrorist action like the 9/11 attacks in the US for good reason. Our governmental agencies still take potential attacks seriously in this country and are vigilant. My greatest concern now is that we, the public, will become complacent.
Many Islamic groups appear to be taking an increasingly public stand against efforts that protect this country; they are determined to undermine our counter-terrorism activities. And they're making an ongoing effort to manipulate our lawmakers to help them forward their agenda. Many concerning people are also running for government positions all over the country.
One global threat that our lawmakers continue to ignore is the Muslim Brotherhood. Just last year a panel spoke to Congress about the Brotherhood, with mixed results. A former coordinator of counter-terrorism for the Obama State Department, Daniel Benjamin, tried to assure Congress that the Brotherhood was not a threat. He added ". . . that taking a hardline approach against the group could alienate non-extremist Muslims living in the U.S."
He likely has no evidence for that concern.
Yet the Brotherhood has held onto its original manifesto, as one panelist explained:
Jonathan Schanzer, a senior vice president of the Foundation for Defense of Democracies, told the panel, "There's really nothing in [the Brotherhood's] creed, which is ultimately the dogma that they adhere to at their core, that suggests that they have given up violence as an approach or that they have embraced democracy."
The Muslim Brotherhood has also spawned multiple organizations with radical agendas all over the world.
Another organization that has become more visible in recent years is the Coalition for Civil Freedoms. It is a Muslim lobbyist group for jihadists.
CCF affiliates with, among other Muslim organizations, the Council of American Islamic Relations. In 2014, Florida chapter members held a pro-Hamas rally outside the Israeli consulate in Miami; attendees shouted, "We are Hamas!" and "Hamas kicked your -ss!"
Even more concerning is that CCF is lobbying for new legislation, the Entrapment and Government Overreach Relief Act. Here is a summary of the legislation:
Liberty today is threatened by political encroachment and governmental overreach, in the name of National Security. At present there is no codified defense against entrapment, no check on the arbitrary expansion of security laws to include Constitutionally protected activities, and no prohibition against showing secret evidence to judges (but not the defense) in criminal trials. The government uses these legal loop holes to incarcerate political enemies rather than people who actually intended to commit crimes. The EGO Relief Act limits these abuses by:

Codifying (for the first time) an Entrapment defense to limit prosecutions of targets induced by the FBI to commit crimes created by the government;
Limiting material support to terrorism prosecutions to cases where there is proof that the target intends to support violence;
Providing that any classified evidence shown to the judge by the prosecution must also be disclosed to security-cleared defense counsel.
This type of legislation will, in fact, compromise our national security. CCF has met with legislators, including Elizabeth Warren and Bernie Sanders, to promote this cause. Of course, we don't know how they've responded, but their pro-Palestinian positions are well-known.
Finally, as of last year, over 90 Muslims, almost all of them Democrats, are running for office, ranging from local school Boards to the US Senate, and some are acknowledging that their Muslim identity is central to their campaign. One source makes the following statement about candidates, with which I concur:
There is no problem with a Muslim in the U.S. who sincerely renounces jihad and sharia, and who is working to reform Islam, and is clear about rejecting the elements of sharia that contradict American laws and principles, running for office. The problem is that all these far-left Democrat candidates will never even be asked by the mainstream media about their views of jihad and sharia, and they will be working, as the Democrat establishment does, against counter-terror efforts.
If a different ethnic and religious community were involved, I might be delighted to know that they are engaging with our American culture and want to help forward our beliefs and values. But with the ambivalence of our lawmakers about assertively managing the Islamic dangers; with, even now, Congressional representatives making statements that are anti-American and anti-Semitic; and with the organizations that are determined to discourage our efforts to act against radical Islam, I'm very concerned.
Complacency will always lose to bad actors.
Published in Islamist Terrorism