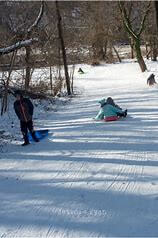 I just got a text from my childhood best friend. She texted three pictures from our other childhood best friend. This time of year, people reconnect, share stories, and think of their lives in context — as in the past, present, and future. Let me tell you a story:
I recognized the older sister, the lovely Mary Beth. She was beautiful, blonde, and so talented. Growing up, I was constantly at my friend Kitty's house. They lived on the next street over, easily accessible through the alley. I asked Mary Beth to make me a dress. I coveted Mary Beth's navy and black velvet dresses with lace collars. She could sew anything. I found a pink paisley material and she whipped up a gorgeous mini-dress with bell sleeves. I strutted into grade school and got sent home because it was too short. My best friend Kitty lent me her Maxi-coat; so cool that I'd throw off my plain nothing, kick off my ugly snow boots, and put on that beautiful wool coat that dragged the ground. I slipped and struggled over the ice and snow to school because the coat had to have pretty shoes under it. So vain … Wait – did I tell you Mary Beth was deaf? She taught me sign language. Kitty and her baby sister could hear.
The three texted pictures included Mrs. Kitty and my friend Kitty. I was told Mrs. Kitty passed away last year at 91. Both were named Kathryn. This family burns deep into my past memory. Both parents could hear, but five out of seven kids were deaf. Their doors were never locked. You could pop in for lunch or dinner, shoes off. One child, Barry, used to strut around and put on shows for us and make us laugh. He turned out to be gay – no one cared. Through their church, I met Godsen, a guest from Africa. I saw him in the backyard in a white robe and tall red hat, as black as night. I was curious and introduced myself. He told me about his country.
A pretty Oriental lantern with red fringe hung over their kitchen sink one day. What's this, I asked? A gift from their mission guest from China. She was so sweet and told me about her country. My best friend's family had one income. They were Italian and the dad was a Sears appliance repairman. He repaired our appliances for free. Seven kids on one income and two small bathrooms.
There was no lack of discipline. When one of the kids got mouthy (they didn't care if a neighbor kid was present), they got spanked. One memory is of a heated exchange and chasing around the dining room. Being Italian, they always made tons of Christmas cookies for the neighbors. They had a beagle named Spot that howled at night. We all opened our windows and yelled, "shut up!" They had a fish pond, quail, chickens, a tomato garden. Three boys piled up in one room and four girls in another. I remember the Jergen's lotion in the bathroom. The smell reminds me of them today. We kids once squirted dish soap on the linoleum floor in the boy's room (it had a drain) and dumped water to create a slide. We got sent home and were told to tell our mom what we did. I was stupid enough to do it and got grounded.
They never lacked anything because the neighbors donated beds, clothes, casseroles, bassinets, especially when baby number seven arrived – a surprise baby.
Seven kids, one gay, one income, an active church open to all cultures, disabilities, so much love. That's where I learned about diversity. There was always spaghetti and a clean house. Everyone had their duties and you never entered this house with shoes. Twenty pairs in the entry – you had to find yours. Mary Beth still looked beautiful. My friend Kitty looks so Sicilian! They made a difference in my life and so many others. I could go over anytime, kick off my shoes even if no kids were at home, and pull a book off the shelf. That's where I first read the holiday classic, The Littlest Angel by Charles Tazewell, written in 1946. Any kid could pop in for a sandwich. There was always enough food.
I could keep going with more wonderful stories, and the impact this and other families had on my life. I heard years ago that the eldest boy became Principal of St. Vincent De Paul's School for the Deaf in Pittsburgh. If you don't think a single family can impact a life, and the world, think again. Family – Faith – Community mattered. Do you remember a family that impacted your life when growing up?
Published in General