Memories are mysterious things. I wasn't blessed with good recall, and the march of time has made that fact more noticeable. But others seem to have vivid memories of their past, particularly childhood.
For me, it's mostly fog and fuzzy forms. But it's December. The lead-up to Christmas. A time that's all about memories. At least, that's what Hallmark tells me. Surely there are memories to be mined from the most wonderful time of the year.
I can remember, vaguely, the feeling of excitement and anticipation. The glory of gifts, brightly wrapped and enticing, spreading out from under the tree, across the living room floor. The fun of my mother's favorite seasonal activity—shaking those pretty packages to guess—never aloud!—what they might contain.
That bit gives me my clearest recollection of a childhood Christmas. Each year my sister and I received gifts from an uncle and aunt whose choice of present was wildly unpredictable. I think I was in third grade when we received bottles of Chanel No. 5 from them.
But one year, the package was especially intriguing. It was about eight inches long and five inches deep. The shape gave little away as to its contents.
But the really baffling thing was the sound it made. When I, following family tradition, shook it, there was a faint, but distinct ring. Not bell-like, but a muffled thrinnngg.
And that gift got a lot of shaking, as I was wrapped in wonder at what could make that sound. Naturally, on Christmas morning, I dove for that gift right away.
Inside, was a smiling, twinkly-eyed plaster football player. Uncle Ralph and Aunt Caroline were bigwigs at Auburn University (War Eagle, y'all!), and we were rabid fans in our little family. The sound he had made while muffled in cardboard and Christmas paper was from the spring in his jiggling bobblehead.
That 1960s icon is still with me, holding a place of honor on a bookshelf, still wobbling its head with a mischievous grin. The most mysterious of Christmas gifts, he silently reminds me, through the fog, of a wondrous and wonderful time.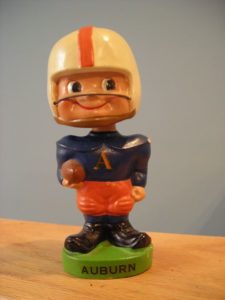 Published in Group Writing