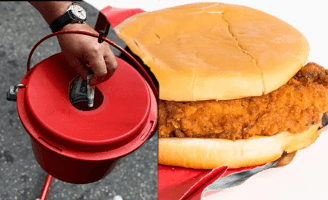 As November turns to December, I reflected on serving lines. I mean lines of food in trays, usually kept hot by a heat source underneath. Behind the serving line, stands a line of people, each poised to serve up a dollop, ladle, or tong full of good eating. Three things come to mind around this arrangement, two from military service and one from Christian service (the "faith community").
It is a matter of many decades tradition for Army officers, especially commanders, and their "right arm," their senior sergeant (company first sergeants and the command sergeants major at battalion and above) to appear in their dress blue uniforms, don aprons and serve their troops dinner. The uniform changes to camouflage in deployed areas or when long field exercises go through the holiday, but there is still a tradition, if the dining hall or mess trailer is not all contract workers, of serving your troops. In the largest land force, this is a small recognition of the officers' dependence upon the enlisted for success. For good officers, this is not the only day of the year when they approach their duty with a servant-leader perspective.
Speaking of dining halls, a Thanksgiving feast, allegedly within the Index of Recipes of the Armed Forces Recipe System, comes to mind. It was 1989 and I had the additional duty of battalion mess officer. As a practical matter, this meant I reviewed and signed the books while an insanely competent E-7 battalion mess sergeant ran the show. And what a show it was that year!
There was even a ice sculpture, assembled by creative soldiers. As to the serving line, not only did we have turkey and ham, there was trout and prime rib! Yes, there were all the fixings. Yes, there were multiple desserts. Yes, we did have a healthy salad bar, if you really wanted it.
In the midst of plenty, with smiling troops feasting, the battalion commander came up to me. He complimented the cooks and the food. Then he turned to the one shortfall. "Lieutenant Brown, one of the young soldiers complained to me that he couldn't get a cheeseburger. I know Sergeant First Class X and his team have worked for a week to put this together. It is wonderful. Just turn on one of the grills, and if someone really wants it, fry them a burger."
I truly cannot conceive of a mind and palette so small as to need a cheeseburger when an all-American feast is laid out before it. Yet, there it was. Perhaps it was some sort of home-sickness that could not stand the memories summoned by a traditional Thanksgiving feast.
From the traditional Army Thanksgiving feast and one sad soul's response, we turn to a feast for many sad souls. Every year, the Salvation Army and the Gospel Rescue missions each serve up a Thanksgiving and Christmas dinner. They feed people every day, but on those days they seek to offer the meal that unites us as Americans. Here too, you may find leaders show up to serve up some holiday cheer. Instead of military unit leaders, you may find local politicians, even members of the United States House of Representatives, donning food-service apparel for an hour and serving a meal to those who have nowhere else to go that day. It is to be hoped that such moments of service carry over into the politician's thinking about their jobs as legislators or executives.
Oh, and those Salvation Army meals do not get prepared without your dollars in those red kettles. Thanksgiving Day was the official kick-off of the annual Red Kettle campaign. Please do give, perhaps leveraging the occasion to discipline yourself in cutting back on food and beverage intake between now and Christmas or the New Year, dropping those food and drink dollars in a physical or online Red Kettle!
Published in Group Writing