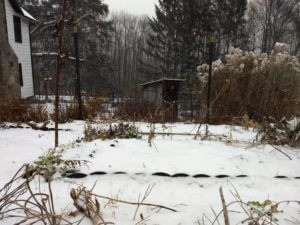 Our family tradition on Black Friday is for my brother to take my six children out for lunch and shopping. They all look forward to it each year, and Papa Toad and I get a break. As our children are getting older, that break becomes less important, but this year we both had a couple of yard projects we hadn't been able to finish and we looked forward to the consecutive hours that would be ours. Several weeks ago, Papa Toad felled three 70-80 foot spruces that still needed some cleanup, and I had some garden work I'd been neglecting, cutting back my raspberry canes and pulling the last of the carrots and the like, that I wanted to get done before the big snowstorm expected Sunday into Monday.
I'm glad I got them out before the snow began to fly this morning. Papa Toad was able to finish his work as well. The photo to the right is the garden right now.
As I was washing the carrots today, I thought to myself how thankful I was to my brother that I had been given that time Friday to prepare. It made me think about the "holiday season." People are being urged to "get into the Christmas spirit," which seems to mean buying gifts and decorating fabulously, but as a Catholic Christian, I don't like to celebrate too early. I don't want to be done with my feasting and joy by December 26. That's when I'm just hitting my Christmas groove!
In his homily today at Mass, our pastor spoke of being prepared, not only for Christmas the holiday celebration, but for Christ's coming, the second coming of Christ, which we Christians profess, or for our deaths when we will meet our Savior. He told a charming story of three devils, preparing to head to the world to tempt us humans, being asked by Satan how they planned to go about their work.
"I'll convince them there is no God," said the first.
"I'll convince them there is no Hell," said the second.
"I'll convince them there is no hurry," said the third.
Satan congratulated the third devil for his cleverness and guaranteed future success.
Another thing the priest spoke of was how some institutions practice fire drills and the like to get ready for emergencies. "You and I have Advent," he declared. "It is exactly what we need."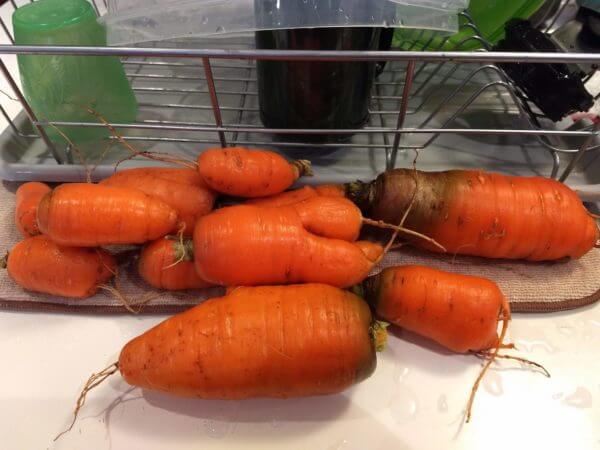 Published in General