Curt Schilling is one of the most successful pitchers in the history of Major League baseball. He was also an entertaining analyst on ESPN, until 2016, when he posted the following statement on a social media page: "A man is a man no matter what they call themselves. I don't care what they are, who they sleep with, men's room was designed for the penis, women's not so much. Now you need laws telling us differently? Pathetic."
ESPN immediately fired him, explaining that they could not tolerate views different than their own because "ESPN is an inclusive company." I swear I'm not making that up. But Schilling was white, and an out-of-the-closet conservative, so this sort of made sense.
Ray Lewis' firing from ESPN was a bit more surprising. He also was a great player – one of the great linebackers in NFL history – but he had a long record of extremely questionable behavior. He was involved in a double homicide at a Super Bowl party in 2000, but the charges against him were later dropped. He frequently said outrageous things on the air and had a habit of injecting himself into controversies, like waving his credit card in the air and offering to pay a fine for a player's questionable behavior.
ESPN tolerated his questionable behavior because he was popular and (many suspected) because it was more awkward to question the actions of a liberal black man than a conservative white man. Until Mr. Lewis questioned the Black Lives Matter movement.
An emotional Mr. Lewis made the following statements on a video that he posted on social media:
Why do we always find ourselves the victims, and now we have the separation once again that we're being victimized because of one bad white cop, two bad white cops, three bad white cops, killing a young black brother. But every day we have black-on-black crime, killing each other?" Lewis asked in the video.

"The March murder rate rose by 29 percent, but we're not rioting in the streets over black on black killing each other," an aggravated Lewis said.

Lewis asked the Black Lives Matter movement if black lives do indeed matter.

"I'm trying to figure out if black lives really matter," Lewis questioned. "In Chicago alone the murder rate has soared 72 percent in 2016 — 88 percent in the first three months of 2016 compared to the last year.

"I'm trying to ask the question to an organization of black lives, if they really mattered, then why not riot now?" Lewis said about black-on-black crime statistics.

"Brother, if nobody will scream to you, I will scream to you. I know black lives matter because I'm a black man, but stop killing each other. Man, we have to put these guns down in Chicago. Baltimore, Miami, man it ain't that hard. You have to be okay with earning a living. It ain't supposed to be easy," Lewis said.

"If we don't change what we're doing not only will our kids not have a future, but we might find ourselves extinct," Lewis concluded.
That was too much for ESPN. They fired him. They fired a popular, liberal, black man.
The power structure of modern progressivism is based on leveraging the grievances of victim groups. And I've long been fascinated by the hierarchy of those victim groups. Are women higher on the scale than blacks? Are gays above transsexuals? Do environmental concerns trump the interests of unions like the Teamsters? Conservatives may not care, but this is deadly important stuff to leftists. Their entire power base is based on this stuff.
I just couldn't believe that ESPN fired a popular, liberal, black man because he questioned the Black Lives Matter movement. They hired him after he was involved in a double homicide at a bar. But suggesting that black-on-black crime is a problem? That's just too much. I found that amazing.
But still, Mr. Schilling questioned the transsexual movement and Mr. Lewis questioned the Black Lives Matter movement. Neither was insane enough to touch the granddaddy of them all. The one thing that all leftists must agree upon. The one topic that one cannot publicly question without being accused of hate crimes.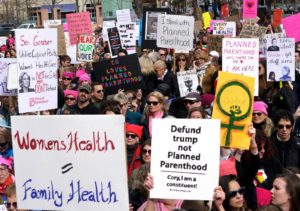 I speak, of course, of abortion.
Democrats are not known for welcoming debate on any topic, but this is one topic upon which they tolerate no dissent whatsoever. If you wonder whether abortion is a good idea, that means you must hate women. That's it.
I posted recently about an episode of a TV program in which an adopted son met with his birth mother years later, and she revealed that she had considered aborting him, but had not done so. She put him up for adoption, she later became a physician, and he went on to be a successful surgeon. Both characters were black. If there was a pregnant mother out there who was considering an abortion, and she watched that program, that would have to make her stop and think for a moment. And stopping and thinking is the last thing Democrats want us to do, especially regarding abortion.
And then, yesterday, I'm watching The Game. For the unwashed heathens out there, The Game is the annual rivalry between Ohio State and Michigan. Announcer Gus Johnson spent much of the game extolling the virtues of the Buckeye's star running back JK Dobbins, as one might expect. He's one of the best players in the game and has an inspiring life story. But then, Mr. Johnson mentioned that JK Dobbins' mother considered aborting him, but changed her mind and decided to keep her baby, who ended up being a star athlete.
Social media went bonkers.
It's fascinating reading the posts complaining about Mr. Johnson sharing that story. Some simply complain that it's too personal. And that complaint has some validity, I think. But the rest of them seemed to be written in some type of code. They didn't object to the choice of JK's mother to keep her baby – that would sound, um, like they wanted a mother to kill her baby. And they really couldn't minimize the significance of his mother's choice. The day she decided to keep her baby is, without question, the most important day in the remarkable life of JK Dobbins.
They mostly seemed to attempt to convey a sort of cringe, without mentioning what it was that they were cringing about, exactly. Someone named Jen Villavicencio, MD, tweeted:
Why is it necessary to discuss a mother's reproductive choices to extol the talents of a brilliant player? So weird. So stigmatizing. So WTF.
As I said before, I sort of see her point on the "Why is it necessary?" bit. Although clearly the mother's decision was very necessary to JK Dobbins. But her line, "So stigmatizing." Goodness. I think what she's implying here is that she's concerned that JK's mother's decision not to kill her baby might inspire others to make the same choice. And she views that as a negative.
JK Dobbins' mother is a remarkable woman. She gave up an athletic college scholarship to deliver a baby when she was 18 years old, then worked her way through school as a single mother, and became an accountant. JK Dobbins' father died in prison at the age of 33. I'm sure she felt that she was in an impossible situation at the time, but she, and her son, have done quite well. I wonder if she views her life choices as "stigmatizing." I would love to see a televised debate between his mother and Dr. Villavicencio. I'll keep an eye on CNN to see if they decide to hold this debate – it would get great ratings, so perhaps they will. It's all about ratings, right?
Another good example is this tweet from Mark Graham:
That Gus Johnson anecdote about the almost abortion of JK Dobbins was a little toooooooo much, dontcha think? Woof. #RoeVWade
Ok, so beyond the snarkiness that he lays on with a trowel, what is Mr. Graham saying, exactly? I think he's saying that the announcer's comment is questioning a Supreme Court decision, Roe v. Wade. And that is inappropriate. I wonder if the announcer questioned other Supreme Court decisions – say, the Dred Scott case – if he would find that similarly inappropriate?
Why can't these people just come out and say what they mean? Why can't they just openly state their opinions?
Because their opinions are horrifying. Especially to JK Dobbins.
This is why I describe myself as a bleeding-heart conservative. Because leftism is heartless.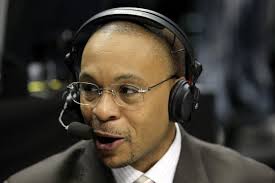 So I watch with interest, to see if the announcer Gus Johnson will be employed next week. To make this more complex for his employer, Mr. Johnson is popular and black. He played baseball at Howard University. Mr. Johnson is smart enough to keep his political and religious views private. So he possibly could be conservative but this is unlikely. That would make firing him problematic.
Come to think of it, much of leftism is problematic. When your policies are horrifying, enforcing them can be horrible. Mr. Johnson's employer is in a difficult spot. I almost feel bad for him.
Almost.
So what do you think? Will Mr. Johnson be employed on Monday morning? I'm curious.
I presume that Curt Schilling and Ray Lewis are curious, as well.
Published in General