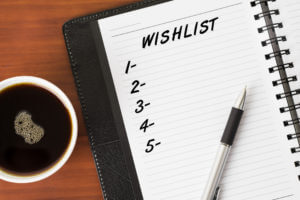 This is the worst time of year. Not the feasting of Thanksgiving or the celebrations of December, but when I'm asked every November to fill out an Amazon Wish List for my birthday (Nov. 21) and Christmas.
I bug my wife and kids to fill out their wish lists, so I better reciprocate. This year, like usual, I wasted a couple of hours on gift guides for guys, for dads, for writers, for podcasters, for malcontents, you name it. And I came up with bupkis. I can't think of anything I want. Is this a guy thing? A getting-older thing? It can't be just me, so I turn to the experience and wisdom of the Ricochetti.
Please note, I'm not some evolved spiritual being who's transcended material concerns. It's just that I have pretty much everything I want or need. Got a roof over my head, a decent car, food on the table, and coffee in the mug. I'm a minimalist at heart, so much more than that seems like clutter.
For modest items, if something catches my eye, I just buy it. If I need a new podcasting microphone or want a bottle of Basil Hayden's, I'm not waiting until my birthday. But when friends mention some new luxury they bought (a Harley, jet skis, cabin in the woods) all I think is, "ugh, sounds like a lot of maintenance" followed by "where do you store jet skis?"
Over time, you learn that the more stuff you buy, the more complicated life gets. I've drooled over BMW motorcycles and imagined mountain rides with buddies on the weekend. Seconds later, I think of loans, insurance, upkeep, etc., and quickly lose interest. Likewise, a vacation home sounds great in theory (if I could afford it) until I consider the inevitable leaky roof and plumbing issues that come with it. The stuff you own quickly starts to own you — and I'm pretty lazy.
Since my birthday wish list was empty, I got a few checks from family members; no clue what to do with them. Joked with my wife that all I want is peace and quiet (teen daughters come with factory-installed drama) so I should check in to a local motel for a few days and do nothing. But then I'd feel selfish and my wife would need a few days on her own to recuperate from my absence.
At last, after a few days thinking of gifts, I remembered I could use a boom arm for my podcasting mic. Also, there was a book I heard about a few months ago that I never picked up. So now I have two whole items on my list.
Here's where I turn to you, Ricochetti: Do you feel the same way? Is it an age thing or a guy thing? Can you think of anything I need on my wish list?
Published in General