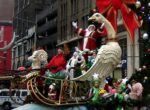 I love watching the Macy's Thanksgiving parade while I prepare food. Loved Snoopy's NASA outfit this year, and the cheerleaders, but not performing to a RuPaul song. Santa coming down past Macy's is to me, the official kick-off.
I don't know why, but my husband loves Black Friday. He says it gets him into the Christmas spirit to get out early, mingle with all the shoppers and find great deals – so we did that – again.
But let's address "Thanks"-giving. Our gathering was really nice. My brother-in-law smoked a turkey breast on his smoker dashed with some Cajun seasoning. We had cornbread stuffing, green beans, mashed potatoes, cobbler, and apple and pumpkin pies – a respectable Southern gathering, minus our last remaining parent. My mother-in-law passed in April, the week of Easter. This is the first year my husband, me and his family will have holidays without her or any parent.
My mother-in-law loved holidays and was complicated. She adored decorations, baking, crafts, and I have ornaments and many memories from her. I married into a complicated family. There was substance abuse. My husband always asked me over the years to "call and see how my mother is doing," even when his dad was alive. She said she felt like she gave birth to me, a second daughter. We'd meet for lunch, share favorite novels, pick out pumpkins in the fall and then she would ignore my calls and only call my husband's cell phone. Life and families are complicated. I look back and see how much, and yet how loving at the same time. Does this describe most families?
It's hardest on my sister-in-law, who hosted. So, she messed up the Pillsbury pop open crescent rolls. We laughed – they were funny shaped. The South is forgiving, and this year we will embrace it without a parent. My husband is in good spirits. Health issues cropped up among several family members this year, an 81-year-old aunt is thinking about retiring, a manager of gospel bands for decades. I am going to eat leftovers in a minute, but let's talk about Black Friday.
We hit the road around 9 a.m. – our local discount outlets were packed – not one parking place. It was the same at 2 p.m. when we drove past. I skipped using my coupon at Fossil. I struggle with feeling guilty. I have a needy niece and nephew, both now 30 and 32. More dysfunction from a messed-up dad. I send gifts, never get a card or a thank you, but I try to help my sister out. I'm trying to be creative this year without spending much. I sometimes feel like it's charity – I give this time of year to several, why not family? We can't go back and do it over. They made their life choices.
We went to Lowe's to buy water sealant and stain for my new garden bench, my husband's gift to me. He said find one you like – I wanted American-made. I found a Texas company on Etsy – it's perfect. In Lowe's, an elderly veteran (from the cap and medals) shuffled down the aisle with his My Pillow purchase, just asking at random are these any good? One lady said yes, we have those. I said I love mine. That was enough confirmation for our soldier. He was so cheerful.
I've never seen it so busy here – massively long lines of cars, shoppers everywhere. I read this morning before leaving, that journalist Maureen Dowd turns over her NYT column to her brother on Thanksgiving. She can't stand Trump, her brother is a supporter. It was delightful, and she offered a disclaimer.
Another story was about BET's founder who said that 2020 is Trump's to lose. He said there is no one on the Democratic side that stands out, and with this great economy, the lowest black unemployment ever, they can hardly dispute his multiple successes. Interesting. I can attest to the hundreds of shoppers in our area that this is true.
So the official holiday kick-off is here. I think about family, the importance of holding up tradition, and filling in for those who are no longer with us, by just gathering, baking, telling jokes, buying gifts for those that need a reminder that someone cares, and how time can heal wounds.
The magic of the holidays is here – let's enjoy every minute.
Published in General