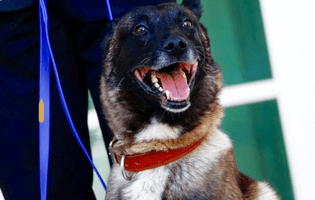 Who's a good dog? Who's a good dog? Who's a very good dog!? Meet Conan, The Very Good Dog.
The White House staff did an excellent job of scheduling the two big White House visits this week.* Today was the courageous canine's day. Conan smiled a lot and enjoyed an ear scratch by Vice President Pence. He was on his very best behavior, exercising his military discipline in not even nipping at the press corps or chasing Deep State swamp creatures though the White House.
Secretary Esper and Chairman of the Joint Chiefs of Staff, General Milley, should be proud of this U.S. military working dog's poise in front of the public, and ashamed that they have not enforced the same level of loyalty, honor, and a-political selfless service on military officers and civilians in the Swamp.** Notice from the transcript that the special operators who went in to take down al-Baghdadi were also at the White House, in the Oval Office, meeting the President. So far, none of the rats in the White House have leaked any illegally taken photo or video, perhaps because that would be taken seriously by the very leaders who have done nothing more than tut-tut about leaks of POTUS conversations with foreign leaders.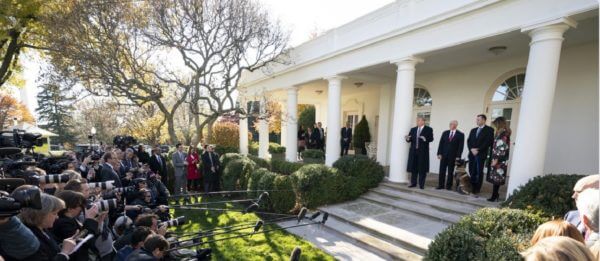 Here are brief excerpts from Conan the Very Good Dog's White House visit:
Remarks by President Trump and Vice President Pence Recognizing Special Operations Military Working Dog from 1st SFOD-D

November 25, 2019

[…]

[President Trump:] They were going to put a muzzle on the dog and I thought that was a good idea, but then it gets even more violent, John. So I had a choice. But, no, the dog is incredible. Actually incredible. We spent some good time with it. And so brilliant, so smart — the way it was with the Special Forces people that it worked with. And for obvious reasons, they can't be out in front of the media.

But they did a fantastic job. Conan did a fantastic job. And we're very honored to have Conan here and to have given Conan a certificate and an award that we're going to put up in the White House.

Mike, would you have something to say?

THE VICE PRESIDENT: It's great to be here, Mr. President. I know you just finished a meeting with some of the very same Special Forces who completed the successful raid that took down the leader of ISIS.

But I recall, Mr. President, when you made the decision, right up there in White House.

THE PRESIDENT: Yep.

THE VICE PRESIDENT: The day before the raid, you had talked about measures that were available to protect our soldiers. And it had been described to us, about the fact that they had dogs that could go in, in the event that al-Baghdadi had on him an explosive vest — that you put the premium on the safety of our Special Forces.

And this dog was there; suffered some injury. We were able to complete the raid without any American casualty. And so I think having the Special Forces here today, who obviously can't come out in the public, but also having this extraordinary dog here today is all a reflection of our armed forces and the great job that they do.

But Conan is really a hero. It's really a — it's a real joy to be able to help welcome him here to the White House with you.

[…]

[THE PRESIDENT]

So I want to thank you all. Thank you very much. And this is a great honor to have Conan here. A great honor to have the Special Forces here. They're in the Oval Office.

Q Do you want to adopt the dog, Mr. President?

Q Is Conan retiring?

THE PRESIDENT: I love this dog. No, Conan is not retiring yet. Conan is primetime, age-wise. Primetime. I asked that question.

They go for about six years — like an athlete. Six years. They start — they like to get them at one and a half or two years old, and they'll go for about six years from that time.

[…]

Q Melania, do you want to adopt the dog for Barron?

THE FIRST LADY: No. (Laughter.)

END
There is absolutely no truth to the scurrilous rumor that Conan, The Very Good Dog, was seen entering the Willard Hotel on Monday evening, after visiting the White House and not biting any of the White House press corps or Deep State operatives. This #FakeNews will be utterly disproven by the appearance of Bread and Butter at the White House this Tuesday, with not a feather out of place.
---
* Not that the Bulgarian Prime Minister is chopped liver, indeed, he seems a very solid fellow. His visit, as scheduled, reaffirmed the old movie actors' adage about never working with children or animals (as they will always upstage you). Check the official transcript of his arrival:
Remarks by President Trump at the Arrival of Prime Minister Borissov of the Republic of Bulgaria

November 25, 2019

Rose Garden
2:27 P.M. EST

THE PRESIDENT: Treat him well please. Treat him well.

How did you like Conan? Pretty good, right?

Q Yeah.

THE PRESIDENT: Don't get in a fight with Conan. I found that out — you don't have a chance with Conan, right? Who would think that? Not even a chance. No. Incredible.

Q Mr. President, do you intend to come to Bulgaria?

THE PRESIDENT: It could happen. Are you from Bulgaria?

Q Yeah.

THE PRESIDENT: Could happen.

Q When?

THE PRESIDENT: Well, so far, I haven't been invited, but I think I would be. He's a great gentleman. He's a —

Q You recently signed Poland into the Visa Waiver Program. Do you plan to invite Bulgaria also into the —

THE PRESIDENT: Well, I think they're going to ask for that. And the relationship is such that could happen. But I'm going to see you inside. Okay?

END 2:28 P.M. EST
** Although Secretary of Defense Esper has collected the first swamp creature's scalp, firing the U.S. Navy's senior civilian after pointedly reminding everyone in the military that "good order and discipline" most certainly includes obeying the Commander in Chief and not seeking to undermine his policies. SecDef Esper fired Secretary of the Navy Richard Spencer for defying the Commander in Chief's express wishes (which are by definition orders and were indisputably lawful).
Swampy Spencer, and apparently the general officer over the SEAL teams, took personal offense and tried to hide, like Courtney Massengale, behind the facade of acceptable terms and military values in his resignation letter that Reuters reports were leaked to them. Hence the Secretary of Defense first publicly warning everyone that "good order and discipline" starts with obeying, not defying or casting aspersions upon, the Commander in Chief.
Published in General