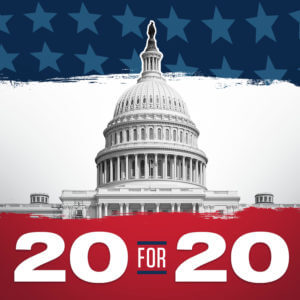 New this month, Senate Republicans launched 20 for 20, a political podcast that's not really about politics. Matt Whitlock and I sit down for 20 minutes with 2020 Republican Senators and candidates to talk about who they are and what they care about. We discuss everything from favorite fast foods to what they're watching, how they spend their time, and what they're fighting for.
In the first episode, NRSC Chairman Todd Young joined to talk Game of Thrones, Taco Bell, his career as a college soccer player, and why he loves Bob Ross. In week 2 Senate Majority Leader Mitch McConnell come on the podcast to discuss everything from Kentucky sports to the birth of his moniker "Cocaine Mitch." Cory Gardner will join in week 3 to preview the upcoming Star Wars movie "Rise of Skywalker," and in week 4, Joni Ernst will be on to talk about riding Harleys and deep fried cuisine at the Iowa State fair.
New episodes with a different Senator drop every Tuesday morning. Don't miss it!
Published in Politics