On this Saturday morning, a couple of questions of the kind that come to mind after you've spent a little too much time on Netflix on Friday night.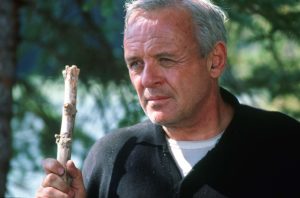 Are you listening, @garymcvey or @titustechera?
Q: Can we agree that Anthony Hopkins is the finest actor ever to appear in so many rubbish movies? Last night I watched the first half of "The Dresser," in which Hopkins is marvelous. But I also used the search function to look at a list of his other movies. Aside from a single-digit number of remarkable pictures–"Silence of the Lambs," "Remains of the Day"–the list was pretty dreary. Why? Did Hopkins make a decision at some point to give up stage work and vacuum up as much cash in Hollywood as he could? Does anyone know much about his career?
Q: On a plane recently, I watched one of those rubbish movies, "The Edge." Preposterous premise. Wooden script. Such lousy acting from Elle Macpherson that even her looks fail to compensate for it. Alec Baldwin? Is he demonstrating his contempt for the project? The man overacts in every scene, mugging so badly you'd almost have thought he was in a high school production. But Hopkins–oh, Hopkins. Cool, understated, economic in every word and gesture. And he utterly dominates every scene. So good that his performance alone almost–almost–redeems the picture.
How does he do it?
Published in General