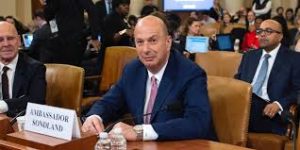 Seated in the hearing room, amid a sense of impending doom,
Scanning curious notes from staff whose names I'd never seen before,
Colleagues nodded, nearly napping, I drew my gavel, started tapping
To startle them, I started rapping, rapping to command the floor.
"Back in order," I muttered, rapping to demand the floor,
"Order please," and nothing more.
Next to me, the opposition, a man of surly disposition
Waited for his chance to address the crowd and take the floor.
Smugly smiling I glanced toward him, turned my head and then ignored him,
Addressed the Maven seated, impossible to ignore,
"What say you Maven? Tell us what you said before."
"I presumed," and nothing more.
"Surely there were preconditions, more than just your suppositions,"
(We were closing in now; I could feel it in my very core.)
"Was there a call from your employer, a note perhaps, his private lawyer?
Surely there is something they must answer for?"
From the Maven of the diplomatic corps,
"I just assumed," and nothing more.
"Please sir, do not try my patience. There is no room here for complacence.
"I'll remind you here that you testified to us before."
The Maven sat there, blinked and twitched; he seemed to me perhaps bewitched,
(A fact that I would like to underscore.)
"Do you mean to contradict the things you've said before?"
Quoth the Maven: "What I said before?"
"But the call…" I had him now; the call he could not disavow.
A call directly to the usurping, despicable man we all abhor,
The Maven stopped and took a drink, cradled his face, as if to think.
"I made the call. I felt a direct answer was called for."
"What the #@*& do you want from Ukraine?" I swore.
"Trump said 'Nothing' twice and nothing more."
And though the days of hearings ended, impeachment will still be recommended.
Our constituents demand this pound of flesh despite the gore.
And though it may be unrealistic, I find I must be optimistic
About the prospects of our retaining the House floor.
We must retain our majority as before.
As for the Maven, let's ignore.
Published in General