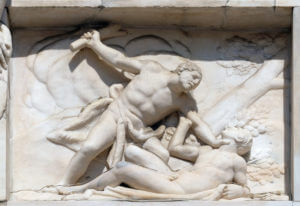 When Cain becomes sullen and angry because his offering of the "fruits of the soil" is not as well received by God as his brother Abel's offering of the "fat portions" of his sheep, God tells Cain that "sin is crouching at your door. It desires to have you, but you must master it."
Well, we know how that turned out.
Sin always seemed to be couching at the door of those ancient Jews. Here they were, tough men and women, eking out a precarious existence among enemies in a semi-arid land — and they obsessed, absolutely obsessed, over their sins. You'd think that kind of excessive and painstaking attention to sin, personal and communal, would be the last thing on their minds. They had weapons to make, borders to protect, sheep to tend to, clothes to weave, land to cultivate — and they apparently found time to agonize over their sins.
At least that's the impression I get from reading the Old Testament (or Hebrew Bible). From beginning to end, the Bible is glutted with the Israelites' attempts to deal with sin—how to resist it, how to perform rituals associated with it, and how to atone for it when it occurred.
One way they had of atoning for their sins was to kill and roast an animal. Sometimes this sacrifice was used as a "sin offering." (Lev. 4:1–5) At other times it was used as a "guilt" offering. (Lev. 7:1–10). In both cases, God was said to be pleased with the smell of the smoke that wafted upward from the roasting animals. That was apparently an indication that the offering was accepted and that the sins of the person or group who offered up the animal were expiated, for the moment at least.
They could also atone for their sins through the use of a substitute, a scapegoat. When the scapegoat was destroyed, the sins it carried were also destroyed. It worked like this: One of two goats was chosen by God (through the casting of lots) and sent as a "sin offering" into the wilderness to die. (Lev. 16:7–10) The scapegoating passages in Leviticus 16 are, to this day, read in many synagogues on Yom Kippur, the Day of Atonement, a day of fasting and prayer when Jews petition God for forgiveness of their sins.
No one hated sin the way the prophets hated sin. Here's Isaiah inveighing against heavy drinkers and flute-playing party-goers: "Woe to those who rise early in the morning to run after their drinks, who stay up late at night till they are inflamed with wine. They have their harps and lyres at their banquets, tambourines and flutes and wine, but they have no regard for the deeds of the Lord…. Therefore my people will go into exile … their men of rank will die of hunger and their masses will be parched with thirst. Therefore the grave enlarges its appetite and opens its mouth without limit. (Isaiah 5: 1–21) The grave is hungry, Isaiah says, for those who party too hard. Now that's what I call a tough-minded prophet. But then all of those Hebrew prophets seem to have been tough-minded.
Well, you get the idea. The Hebrew Bible, or Old Testament, is rich in passages that deal with sin and atonement, but I want to move on now to a consideration of sin in its post-Biblical milieu.
Some post-Biblical societies like the 17th-century Puritans took the Biblical focus on sin very seriously indeed. It was sinful, according to the Puritans, to hang garlands on a Maypole, to fly a hawk, to hunt a stag, to play chess, to wear lovelocks, and to put starch in a ruff (Macaulay's History of England) Perhaps you remember H. L. Mencken's definition of the Puritan mindset: "The haunting fear that someone, somewhere, may be happy."
The contemporary Christian order that places the most emphasis on sin and repentance is, of course, the Catholic Church, where it is centered on the confessional booth. It is there where one's sins, both mortal (those sins that will result in hell if not atoned for) and venal (everyday sins) are confessed to a priest (temporarily God's representative). The sin is not completely forgiven until the penitent completes his penance, given to him by the priest, of fasting, the giving of alms, or the recitation of prayers.
But for the most part, sin has fallen on hard times. Some mainline Christian churches rarely touch upon the concept of sin and its consequence at all. Sin has become as old-fashioned as a Puritan ruff. When a person lies in a court of law, very few people think, "Well, there's a sinner." But in fact, the liar, in Biblical terms, has broken the 8th Commandment, "Thou shalt not bear false witness against they neighbor."
What I'm curious about are your thoughts about sin. As a "middle to right" political web site, we probably have more religious folk than your run-of-the-mill website. We're a religious people, we Ricochettti, so we should have much to say.
Let me tell you about my feelings about sin first; then you can discuss yours.
I've lead a rather easy and untroubled life, which is not the kind of existence that leads to great sins. I was a literature professor (don't judge) in a quiet college town, with an easy-going wife and two nice kids.
Naturally, as a male, I think lascivious thoughts about women — much more when I was younger than I do now — and if I were a Catholic, I could confess that I have had impure thoughts. But really, I've never thought those were sins. It's just something we men do. No harm, no foul. But to please the priest, I might confess that I've harbored impure thoughts. Otherwise, I wouldn't have much to talk about. I've always hated to disappoint people. 
There are a few things that have worried my conscience all these years. I shouted a few times at the dinner table at my daughter Annie about 40 years ago (I didn't understand what she was going through), and I mistreated a dog about 70 years ago. I am truly sorry for those two offenses against man and beast. I would do penance if I thought it would do anyone any good.
Well, there is one more thing I do that I consider a sin, at least for me: the killing of animals for my food. I've been a vegetarian for the past, oh, twelve years or so. But lately, in the past few months, I've put on weight so I've been trying the keto diet. It's almost impossible to be on a keto diet, which focuses on meat and fat, and be a vegetarian at the same time. I've lost some weight but my conscience bothers me about eating meat, so I'm returning to my vegetarian diet. I just don't want to be complicit, in even the slightest way, in the killing of animals, animals who want to live as much as I want to live. (By the way, I don't think any less of you if you eat meat. Vegetarianism is a personal thing with me, strictly between me and my conscience. My wife eats meat and I like her a lot.)
When I was a kid growing up in Compton, CA, I did a lot of juvie stuff, but that stuff doesn't count, does it?
Small twinges to my conscience occur occasionally. A few hours ago, in the middle of the night, I ate the last piece of a cheesecake that I found in the refrigerator. I think Marie might have been saving that piece for herself. I'm a little sorry for my gluttonous act of thoughtlessness. But Marie has more of it that she plans to sell at a church bazaar. If she wants a piece so badly, she can take a piece out of that. I'll confess to her in the morning. Maybe I'll leave a cute message on the empty plate. I'll have to think about that. I do feel somewhat guilty about the whole thing.
If I were a Catholic, I don't think I would confess the cheesecake theft to a priest. It just seems too petty. Besides, the priest might laugh at me.
Is schadenfreude a sin? I've done a lot of that. Actually, I haven't. I just like the word.
During the course of writing this post, I took a good look at the Ten Commandments. I've broken eight of them at some time or another in my lifetime. I'll leave it to your imagination which two I've haven't broken. What about you?
Why I Don't Sin Very Much
That's my front yard below. Can a person with such a tidy lawn, a faithful dog (see photo), and a statue of an antelope of some kind be a big sinner? I don't think so. That tidy yard and sinning just don't go together. Moreover, I have to walk the dog twice a day, vacuum the lawn once a week, trim the vegetation as needed, and cater to a sometimes cranky wife who needs a lot of love and attention. I really don't have time to sin very much. Finally, I'm old. Old people just don't sin as much as young people do. We aren't spunky enough to sin very much.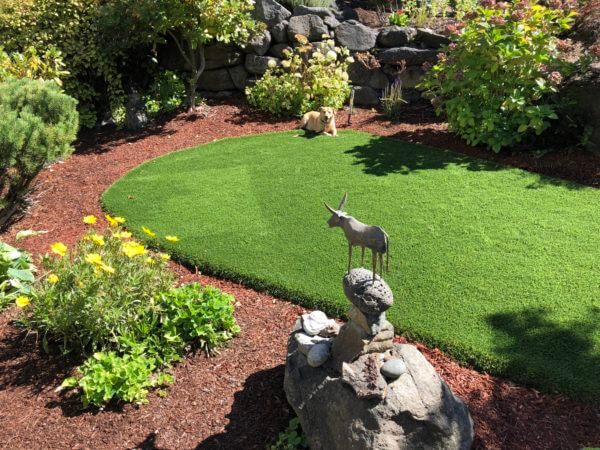 So what do you think of all of this? Perhaps I've been more flippant than you prefer. I'm sorry. I lapse into flippancy too often. It's a bad habit of mine. I don't, however, consider it a sin. Just an annoying habit. It annoys Marie, so there's that.
I'd like to hear your take on sin, as long as you don't get all testy, especially about my vegetarianism. I'm a bit thin-skinned. Oh, go ahead and flail away. I'll buckle up.
Published in General