This morning I saw an op-ed piece that finally drove me over the top. Here is one statement from Kathleen Parker from her piece :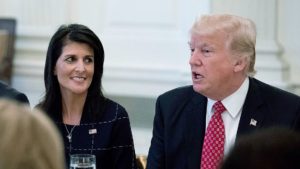 Whatever her ultimate motive, Haley clearly decided that stepping on Tillerson and Kelly was in her political interest. There can have been no other reason to drag these two honorable, accomplished men through the mud for, by her own account, trying to mitigate some of Trump's more-destructive impulses.
Parker has impelled me to go after all the hand-wringing, outrage and disappointment that so many people have directed toward Trump. Especially egregious are the lies and exaggerations coming from inside the government against Trump.
Most of the anger directed at Trump is blamed on Trump—his actions and behaviors. But no one wants to discuss the extreme arrogance that is being demonstrated over and over again about who should be in charge of the Presidency.
Let's begin with Nikki Haley's recent book, With all Due Respect. According to Kathleen Parker, Nikki Haley would only criticize Rex Tillerson and John Kelly to enhance her own selfish political goals. The fact that Tillerson and Kelly tried to enlist Haley to resist actions by the President were apparently irrelevant to her. Parker quotes Haley:
'Kelly and Tillerson confided in me that when they resisted the president, they weren't being insubordinate, they were trying to save the country,' Haley writes.

The pair told her that 'it was their decisions, not the president's, that were in the best interests of America' and 'the president didn't know what he was doing.'
So let me get this right: Kelly and Tillerson believed they were entitled, in fact obligated, to save the country by betraying the President.
For the last three years, the press has indulged in trashing the President and his staff. I remember early on wondering how the White House staff was getting anything done with such chaos going on. I'd like you to read the following characterization carefully and I will follow with my own observations:
The result of all the melodrama is a sense of constant chaos for a watchful nation and a crippling anxiety for White House officials. Some aides now refuse to communicate by email, given that federal law requires such messages to be archived for historians and investigators. Many have taken to using encrypted apps to get around the investigations Trump has ordered to clamp down on leaks. Others are skittish about even picking up the phone, assuming someone is always listening or monitoring calls.
So let's look at this supposedly journalistic description, which uses terms like "constant chaos," "crippling anxiety," "clamping down on leaks." So much for objectivity. Worse yet, I almost laughed at the reasons for the chaos. What do people think they have to hide? Are they afraid people might see their plans to sabotage the President? Are they afraid their efforts to leak to the media might be discovered? It seems to me that if people just do their jobs and don't violate the rules against leaks, they have nothing to worry about.
And now we see the height of arrogance in the State Department bureaucrats. Again, they are going to save all of us from Donald Trump, who has the gall to take his own path without consulting them regarding Ukraine. What nerve! Many of them have gotten their noses bent out of shape because Trump is not only not letting them do their jobs (which of course includes saving Ukraine and the U.S.), but he's changing the status quo!
In spite of stepping on lots of toes, rocking the boat, going against the grain (okay, enough clichés), Trump has done a very good job:
The most prominent motif in these pieces is language that suggests movement toward a climax or dissolution—downward spiral, closing in, unsustainable. Trump is always becoming increasingly frustrated or unstable; he never decompresses or cools down. And yet: On April 2, 2017, in the wake of the first round of CHAOS coverage, Trump's aggregate approval was 40.4 percent. His aggregate approval rating today is 40.4 percent. In his time in office he's passed a tax cut, launched the punitive ICE raids he promised during the campaign, avoided inducing a significant military or economic disaster, and retained control over the votes of almost every congressional Republican.
(I acknowledge the comment on the economy is very understated.)
I hope that citizens will begin to realize that their criticisms of Trump are actually more legitimately directed at the media, against those who hate him and those who think they know how to do the President's job.
I think the best thing these conceited bureaucrats could do for the country is quit.
Published in Politics