I struggle to grasp the logic of the Ukraine impeachment charge being developed by the odious Rep. Schiff. First, we need to look at the established policy precedent. Ukraine has an obligation under the Treaty with Ukraine on Mutual Legal Assistance in Criminal Matters ratified by the Senate in 2000 to cooperate with requests by the US Attorney General in criminal investigation matters and specifies how such requests should be made.
Mr. Biden in 2015 and Mr. Trump (Mr. Giuliani?) do not appear to have touched all those bases. As I read the Treaty, each nation is required to aid the other when an investigation is being conducted by the other one. The Obama and Trump administrations both seem to believe the treaty authorizes one nation (the USA) to tell the other whether and how to conduct its own internal investigations as well. I do not see that provision in the treaty in my quick reading.
Let's compare aid-withholding actions: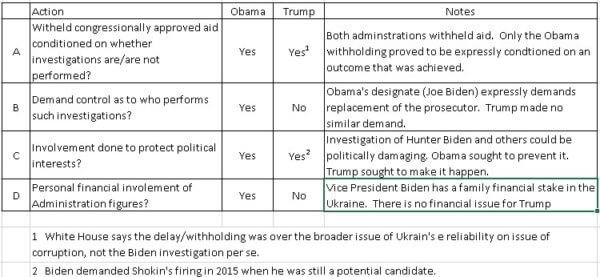 The Obama involvement involved an express, overt withholding regarding an internal Ukranian probe with the additional issue of a financial stake by an administration figure (Joe Biden qua the father of Hunter Biden) and achieved the intended quid pro quo whereas Trump did not. I am struggling to find a distinction that makes Trump culpable but not Obama.
Given what is charted above, we are faced with two choices:
(1) The Obama administration actions were legal/appropriate in which case the Trump actions must also be deemed lawful and appropriate because there is no meaningful distinction that makes Trump culpable.
Or
(2) The Obama administration's actions were unlawful/ inappropriate in which case Trump's actions were lawful and appropriate but procedurally defective. In other words, if Trump had reason to believe the Bidens are dirty he has every right under the treaty to request assistance but that request should have been made by the Attorney General pursuant to an active US investigation. Trump could be guilty of jumping the gun, especially given that Durham and Barr are already looking at Ukraine-related matters. Ultimately he would be impeached for not expressly directing Barr to investigate Biden which would be convoluted and stupid even for Adam Schiff.
Published in General