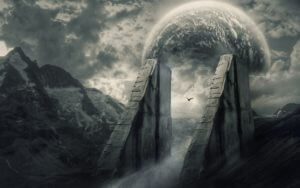 Human beings, by nature, are hungry. A basic human need is to feed our hunger, and it shows up in many different ways. Our most fundamental hunger appears in our bodies telling us that we need to nourish ourselves, that we need to be fed. Some people hunger for recognition and even fame. Others are hungry for learning. Still others want to control others, either in their work or through authoritarian means. Many seek material possessions to satisfy their cravings. The question for me, though, is why do people crave the impractical or impossible, when they already have attained so much?
The possible answers have occurred to me, and they are dismal and tragic.
For one, people are not self-reflective enough to look into their hungers. Like a primitive people, they think the source of their perceived deprivation is outside themselves. The basic instinct which is intended to keep them alive and well has taken on enormous proportions, a life of its own. It grows larger, weighing down human beings, and instead of looking inside themselves for what might be missing, they decide to change the world in which they feel trapped.
They will try to satisfy this yearning through the material, if they have the means. New cars, new houses, expensive vacations, notoriety or fame. But the hunger lingers on. If they don't have the means to acquire "things," or to indulge in excesses, they may stop to look at the world around them. Unfortunately, they evaluate the world in terms of what it provides for them. And the dearth of opportunities (in their minds) is depressing, or they are not prepared to do the work required to explore them. They perceive others around them with all kinds of things, happy as larks, while they are miserable, and their disaffection grows. Their ability to reflect on the possibilities they could pursue is missing from their worldview. They only see emptiness, loss, loneliness, and experience a poverty of the soul.
So they dream. Dreaming only requires the imagination. It's easy and always available and comforts them. In their dreams they can create the perfect world. Jobs for everyone. Wealth for everyone. Material riches for everyone. And how will they do it? Why, they can take the wealth from those who already have more than they need; they have plenty and owe it to all of those who don't have enough to share what they have. There is a justice in that effort. A fairness. An equality. Over time, those who are forced to give up what they have will get accustomed to it. It's a perfect plan.
They will find others who want a perfect world, easily acquired. They will all link arms in achieving this mission. They will dream together, promote their beliefs and values and recruit others who are as idealistic as they are, who want a perfect world. Some will not recognize that their efforts are selfish and self-serving; instead, they will satisfy their hunger with their illusions of serving humanity. Those who do not have enough will surely be grateful to those who spread the wealth. They will honor those who do this "work." They will celebrate them. They may even elect them.
* * *
Those of us who realize the countless human casualties that will come out of these efforts are alarmed. How do we change the minds of these craving and craven souls? How do we convince them that they will be destroying the souls of the people they are trying to help? Given the "rewards" these idealists perceive that they will reap, I see little hope of changing their minds.
Thanks to @oldbathos for the inspiration to write this post.
Published in Culture