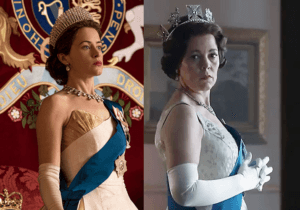 Unlike its broadcast competitors, Netflix does not reveal its viewership numbers, so it's hard to gain any measure of this week's debut of Season 3 of The Crown. But if it follows Nielsen's estimates of last season then the streaming service's imaginary look at Britain's Royal Family is probably toiling away in relative obscurity. The second season started out with a fairly strong 3 million American viewers but couldn't even reach a sixth of that by the time it got around to episode 10. Netflix says Nielsen is full of bollocks.
Having watched the first three episodes the wholesale cast changes haven't helped. Perhaps Claire Foy was too glamorous to play the part of Elizabeth II in the first place but she was a joy to watch. Now Oscar-winner Olivia Colman (The Favourite) has taken over the role and spends most of her time on screen looking like she's sucking on a lemon. Worse yet, this season promises less Queen and more spotlight on the more dysfunctional Royals, Princess Margaret (Helena Bonham Carter) and Prince Charles (Josh O'Connor). Oh, joy.
The fiction-to-fact ratio seems to be rising as the series progresses. As one works through the series one would be advised to read the many articles online that compare the film to the historical record. In the opener, for example, John Lithgow briefly returns as the dying Winston Churchill, who takes a visit from the Queen so that they may make their final goodbyes to one another. There is no evidence that any such meeting took place.
Besides, if there was a weak spot in the first season of the show it was John Lithgow's turn as Sir Winston Churchill. At 6'4″ he was just too damn tall to play the Great Man. (Sir Winston was only 5'6″ and his hunch made him seem even shorter.) Even lying down in bed dying he's still too damn tall.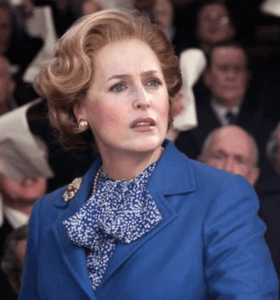 And speaking of ill-advised casting of great Prime Ministers, it's already been announced that the next series, set in the 1970s and '80s will feature Gillian Anderson of X-Files fame as Margaret Thatcher. This will be, of course, the second major depiction of Thatcher on film, the first being The Iron Lady starring Meryl Streep – another American.
So The Crown gives us the two greatest PMs of the 20th Century, both Tories, and both are portrayed by an American? Are English actresses incapable of taking on the role – or just too angry to play her straight?
Take The Crown with a huge dose of salt. Meanwhile, may Her Majesty live to be 150. Anything to keep that son of hers off the throne.
Published in Culture