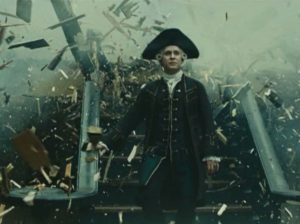 "Every generation laughs at the old fashions but religiously follows the new," wrote Henry David Thoreau, who died in 1862, deprived of the glittering spectacle of aesthetic, intellectual, religious, and cultural fashions that would follow. He was only 45. Which, come to think of it, was about the same age I was when I checked out of the popular music scene altogether, the increasing poverty of melody or even musicality doing to my spirit what a jackhammer does to a Stradivarius.
Over time, however, I've noticed a creeping detachment on my part from a great many other things that are thought by a great many people to be of pivotal importance — some of it actually quite important, though by no means all of it. Mark Twain is credited with the quote that "History doesn't repeat itself, but it often rhymes." Which seems to be the case in a great many areas of life ranging from fashionable clothing to theories of governance, man's relationship to the state and more. For those who've been around long enough to observe the recurring cycles, there is a tediousness that becomes at first apparent, and then insufferable.
As children, we giggled at the fedoras of our grandparents, their skinny neckties, their quaint mannerisms, and their music. We thought of our bell-bottomed pants and platformed shoes as the Mt. Everest of fashion statements, the pinnacle of modernity. We were cool, unorthodox, unabashedly hip, and, oh yes, we were smarter. The fact that our iconoclastic audacity and innocent arrogance were actually the indulgences of a freedom purchased by those old guys with fedoras who had, in their youth, charged into the bloody meat grinder of war against totalitarianism and genocidal evil was underappreciated by many of us, myself included. But if you pay attention, eventually, things come into focus.
Now, working in the men's department of an upscale department store, I see the return of fashions we once lampooned. I literally got into fights as a kid because my folks couldn't afford to keep up with my growth spurts, meaning that my pants were derided as "high waters" because they were short. Now, young men aspire to look like Pee Wee Herman, their skinny pants several inches above their shoes, their legs resembling spindly little twigs, their hair looking like something between Groot and a fallen soufflé.
As for me, having long ago discarded the bell-bottoms and platform shoes, I dress to keep up with exactly no one. But even in my musical and aesthetic tastes, my very rebellious nature and fierce independence is itself a part of the ethos of my generation, no? Am I leading or am I following the beat of a decades-old drum?
That's a question for another day because, almost imperceptibly, another ingredient has entered the mix. It's not complete apathy, though there is an element of it. And, if I'm honest with myself, an element of disdain comes into play. It's a disdain best epitomized by a recent conversation I had with a young man barely in his 20s. In hushed tones, he confided that he was terribly concerned over an incident that took place the previous evening. He had, you see, opened the oven door to retrieve something or other that had been baking, and the wave of hot air was such that he was afraid his skin might dry out a bit. Did I, he asked seriously, see any blemish or anything that might betray that a whiff of heat had damaged his soft-as-a-baby's-butt facial complexion?
Managing a straight face and somber tone, I inspected the landscape and pronounced him unblemished by heat (or serious thought for that matter). It was hilarious until I stopped to recall what I was doing at his age. Basic training, Security Forces training, weapons training, combat school accompanied by days spent in a foxhole and nights on recon, a face covered in camouflaged paint, hours in chemical warfare gear, deployments, and other adventures. Henceforward, (to myself alone) I nicknamed that young guy "Precious."
Yes, yes, that was disdain pure and simple. But mainly though, I'm at a point of happy withdrawal and contentment. I decline to endlessly lecture people. I assume good faith until proven otherwise, and if questioned about events or my own perspective, I'll attempt to respond only if A) the question is in good faith, B) I'll be able to get my point across without being interrupted, and C) the question isn't just a rant of the sort that makes Archie Bunker sound like Thucydides.
Likewise, I decline to lump all of the younger generation under a disparaging banner and announce their general uselessness. On the contrary, I'm reminded that our Armed Forces are in large measure composed of the younger generation and there is no indication whatsoever that they are any less capable or lethal than their predecessors. Just ask any one in the leadership ranks of ISIS, if you can find them. Additionally, I note that the vast majority of the younger folks with whom I'm privileged to interact each day at work in the world of retail are enormously gifted and intelligent. Do they have things to learn? Of course. Didn't we all? Don't we still?
But as to the cares that consume these folks and so many others, I simply have no desire to engulf myself and my energies in them. Eleanor Roosevelt once observed, "Great minds discuss ideas; Average minds discuss events; Small minds discuss people." I think there is some truth to that, and while I don't think I have a great mind, I'd like to think I can make some improvements on the gear I've got. Those improvements will not, however, come by chasing the latest trends, be they material or ideological.
As to the current infatuation with Socialism, history records that it is civilizational poison. Charles Murray recently wrote on Twitter:
My daughter's immigrant friend, asked during her dissertation why she had not dealt with the Marxist interpretation of her topic: "I grew up in Eastern Europe during the Cold War. I do not indulge in recreational Marxism."
Indeed. To those who indulge in starry-eyed utopian prescriptions, please read a book. I'll read one to you if necessary, but don't ask me to underwrite the validity of your ignorance. I'm reminded of Dorothy Parker who, upon being challenged to use the word "horticulture" in a sentence, replied, "You can lead a horticulture but you can't make her think." Quite so.
And while you won't catch me dead wearing a t-shirt with some brand name splashed all over the thing, looking like a two-legged billboard, you will find me happy to indulge and assist customers who wish to purchase that and much more. I derive great comfort from helping others, and retail affords just such an opportunity. And while I'll continue to appreciate a fine meal and high quality in material possessions, I remain mindful that these are transitory pleasures and not the solid sustenance of the mind, spirit, and soul. If you pay attention, things come into focus. Toward that end, a happy detachment is useful.
Published in Culture