I had long thought the doodads festooning veteran organizational caps to be a bit silly and something of the past. This Veterans Day, I took another look and came to a different conclusion. Looking at veterans' uniforms in a parade and watching the pudgy weasel almost popping out of his blue Army Service Uniform in Congress, I discovered two things.
The first realization was of a linkage between military and veteran customs. Look at any military member's uniform and you will see a shorthand career biography. If you take the time to look up the various ribbons, badges, insignia, patches, crests and whatnot, you get a glimpse into where they served and some tokens of what they did.*
It should be no surprise that veterans would carry over the military habit of visible tokens on their uniform. On closer examination, those "funny" caps have been serving the same function as a uniform jacket. Since the cap is the whole of a veterans organization uniform, that is where various tokens of a veteran's service are displayed. 
The VFW caps you see above were being auctioned off. You can see the former wearer had led a post in Iowa back in the late 1960s. He was a life member, and was involved in a number of recruiting drives for the organization, as well as other efforts to sustain and improve the organization. So the various badges seem to say. This was almost certainly a World War II veteran, a Korean War veteran, or both.
The second realization was that time quickly separates us from the current generation. I realized that this Wednesday in digging up an official link to current Army uniforms. I was surprised, although not greatly, to find that the uniform was changing again. 
I was an Army brat in the mid-1970s and early 1980s, before joining and serving from 1986 through 2006. The Army started with olive drab fatigues (pickle suit), khakis, green Class A (business suit), and dress blues. They transitioned in the 1980s to Battle Dress Uniform (BDU), eliminated khakis, and defined a "Class B" (take off the jacket and add a black windbreaker or sweater as needed outdours) out of the Class A. Then, in the last 15 years, we saw the supposed simplification of the supply chain and soldiers' closets by eliminating the Class A (green) uniform and making the basic design of the dress blues much more durable. This became the Army Service Uniform, and served as both business and formal attire (add straight black bow tie for the evening).
As you can see from LTC V's appearance, if you will, this is really a bit much for regular business attire. Besides, A new crop of Command Sergeants Major need to make their own mark. The Army is going old school, bringing back the classic World War II Army Greens, with some updates, in 2020!
Ladies and gentlemen, back to the future, I give you the 2020 Army Greens!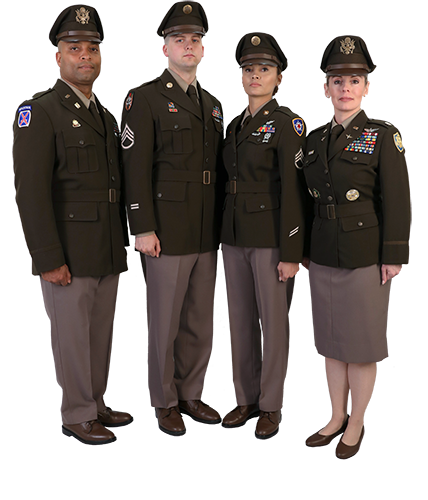 Wait a minute! This really is big: brown shoes. The Army hasn't worn brown shoes since before Vietnam. But don't go re-dyeing your low quarters, you still need the black shoes for the ASU, for formal events.
What do you think? I'm kind of liking this look, especially if we get some old fashioned military discipline and values back in the headquarters where these snazzy duds will be mostly worn. Hooah?
---
* Here is a decoder key, following AR-600-8-22, for the "fruit salad" on soldiers' chests:
For extra fun, here is a practical exercise in ribbon and badge reading. Can anyone spot the puzzling part?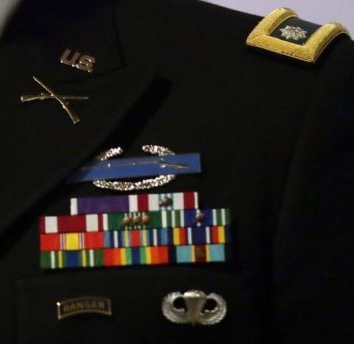 Published in General