"Indeed, an engineer designing a structure is not unlike an artist painting one. Both start with nothing but talent, experience, and inspiration. The fresh piece of paper on the drawing board is as blank as the newly stretched piece of canvas." — Henry Petroski
Henry Petroski has written many books on Engineering, starting with To Engineer is Human: The Role of Failure in Successful Design. His fourth book, The Evolution of Useful Things (1992), follows a similar formula to the brilliant James Burke's 1978 BBC/PBS series "Connections." Burke had the advantage of better financing and the ability to hold the fickle TV audience for 50 minutes with twists and turns of his (eccentric) British viewpoint, similar to Kenneth Clark's 1969 "Civilisation" TV Series.
Yet Petroski's book holds up well, with the examples of eating forks, clothes fasteners (pins, buttons, zippers), and other important insights from a History of Engineering professor. One of Dr. Petroski's hypotheses is that devices evolve because the user is not satisfied on how the current system works. Or, to use the author's words, "form follows failure."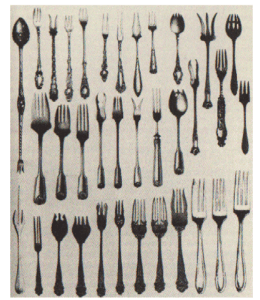 In the Middle Ages, people usually ate with a pair of knives, one knife to cut the food, and the other to hold the food being cut. Around the 14th Century, two-tine forks appeared in Europe to help stop the rotation of the food being cut. Naturally, forks evolved to three and then the modern four-tine units, allowing the fork to help with other forms of eating.
Although this sequence looks rational, the proliferation of fork designs provides justification for Petroski's 'form follows failure' argument. It also demonstrates the enormous compromises needed to achieve a "generic" fork design applicable for most users. Petroski views that luxury, not necessity, is the mother of invention, being driven by desires and not actual needs. We can eat our food without a fork, but we want a design without adverse effects. Hence the multiple types of forks shown, including the oyster, berry, pickle, ice-cream, pastry, salad, fish, terrapin, and lobster.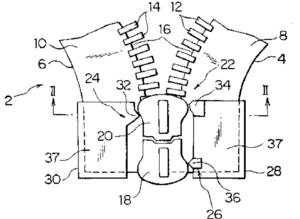 A more complex example of progress from Petroski's book includes the fasteners used on our clothing. He also explains the geometry of the various methods, include the point (the pin), lines (brooches and safety pins), mainly two-dimensional (buttons and hook eyes), to complex three dimensional methods like a zipper. Each fastener helped solve some problems:
1. Pins were replaced because they fell out or injured the wearer.

2. Brooches and safety pins were too difficult to use or too many were needed for an effective seal against the weather.

3. Buttons are easier to fasten, but still don't seal against the weather unless many are used. They take time to fasten and weaken
the fabric structure.

4. Hook eyes do less damage to the underlying fabric, but are time consuming to fasten. They are expensive because they are individually attached to the fabric.

5. Zippers have been around for over 100 years, and are still being patented today, as shown in this 1998 patent above. Zippers are quick to fasten, and cause less damage (when installed correctly) to the fabric. There are still problems like poor water-proofing, cleaning difficulty, starting difficulty, and a tendency to snag and trap flesh or other clothing. This clearly suggests that the zipper, or its successor, has a long way to go before we'll be satisfied.
Finally, an object "that has stood the test of time" from Dr. Petroski:
The plain wooden toothpick, it may be argued, is among the simplest of manufactured things. It consists of a single part, made of a single material, intended for a single purpose — from which it gets its simple name. It is also among the most convenient and ready of things. It can be used directly out of the box — there being no instructions to read, no parts to assemble, no priming or booting required, and no maintenance expected. When it has served its purpose, it is simply discarded.
Published in Group Writing