My husband and I decided when we first married that we weren't interested in fancy dinnerware, plates, dishes or a tea service. It just wasn't our style. We love the china sets that many of our friends have, but we were never tempted to indulge ourselves.
Eventually we decided that there were some basics that we would acquire—wine glasses and specially made pottery items. We didn't inherit sets from our families, although Jerry's aunt rescued some items from his mother's garage sale. (Mom Rosella assumed that when we said we wanted the glassware, we were just humoring her!) So Aunt Esther rescued a few things and we're so grateful, since they were part of the family history.
Here are a couple of things that represent sets she saved for us: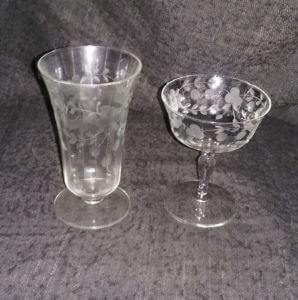 These glasses are our everyday glasses. (You never know when you might need to break out the champagne!) The wine glass is one of a set of seven. (It was eight, but my husband set his glass down on the concrete patio and our little dog knocked it over many moons ago.)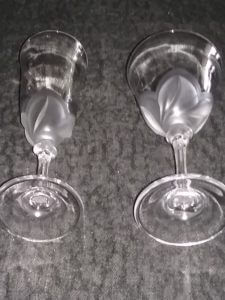 I bought us this pair of glasses for our anniversary in the late 1980s. We are the only ones who use them, even for red wine. If either of us is having wine without the other, we use a glass out of another set.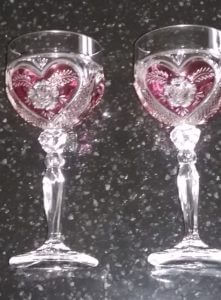 And these were a wedding gift, so they are 46 years old.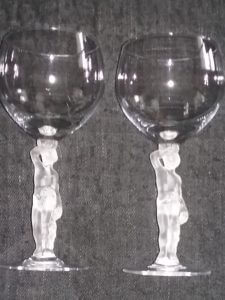 I had a dear friend whose son was a potter, and we chose from designs he created. Here are some samples.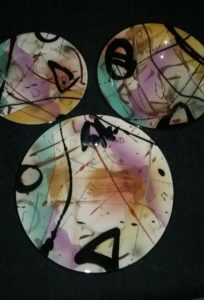 I envy people who inherit these kinds of items shared through the generations. Neither of our families collected items that would be passed down. So we found our own.
I know many of you have some wonderful sets passed down through your families. Please feel free to share them with us!
I took the photos on my cellphone, so forgive the poor quality and blurriness.
Published in Group Writing