When we meditate on Service, we should pause and say a quiet "thank you" to the people that fought the Cold War.
My father was a Cold War-era CIA guy. Not a debonair, tuxedo-wearing, sneak-upstairs-to-crack-the-safe-for-the-super-secret-codes-during-the-Ambassador's-cocktail-party CIA guy. He was a communicator. As my father told me countless times growing up, and then I heard about a bajillion times after I joined the Army, it doesn't matter how awesome the intel is if you can't push it up and out to the people that can use it. He and his cohort were hard-working, hard-drinking, knuckle-scarred hard cases, and they would–by God–get the intel out.
Many have forgotten how evil the Soviet empire was. We tend today to think "yeah, there was the Soviet Union, and it sucked. But then it fell, and we're awesome and will be awesome in perpetuity."
If a "hot" war is artillery and air support and the employment of mass echelons of troops, the Cold War was knife-fighting in a dark back alley bumping into overfilled garbage cans and knowing there is no help coming and no emergency room available if one took a slash.
My father was a Cold War warrior. He had a … dysfunctional relationship with his own father, so my grandmother signed the paperwork for him to enlist at 17. He joined the Air Force. In Vietnam, he started doing more work with Another Government Agency and less with the Air Force. Wounded in a country that was not Vietnam, but was very, very close to Vietnam, he was sent to Okinawa to convalesce. There, he met my mom, who was a missionary teacher. First time she ever left the great state of Texas was to go to Okinawa.
Later, my dad took a job preparing Okinawa for Operation Ox Cart, the CIA's development and deployment of the SR-71. He took the job mostly so he could get back to, woo, and then marry my mother. Mom spent the first year and a half of her marriage with a go-bag packed, knowing that whenever Dad greenlighted the facility he was building they'd have to be off the island in 24 hours. Dad had already put plenty of noses out of joint, running around base with a warrant to do whatever the heck he wanted, with top priority. Senior officers who put obstacles in his way either out of bureaucratic churlishness or probing (recon-by-fire kind of probing) curiosity got calls from super-senior officers to sit down, shut up, and do whatever they could to facilitate Welsh's mission accomplishment. None of Dad's bosses wanted anyone trying to corral and interrogate the young Tech Sergeant when Ox Cart went operational on Okie.
One time, after I'd gotten my TS/SCI clearance bona fides, and I was an instructor at the SFQC, I read a book about the exploits of Green Berets in Vietnam. The book, SOG, was by John Plaster. In it, he wrote about the Chinese Air Transport (CAT) organization that the CIA had set up to run infiltrations into North Vietnam. Looking at the timeline of CAT, I remembered that during that time, we'd been stationed in Taiwan. And, I remembered some coffee mugs the Old Man had that looked like a funky cat, Bill-the-Cat style.
I called the Old Man, and asked about Chinese Air Transport and whether it had anything to do with our tour in Taiwan, to which the Old Man replied, "What's your source?" Da, it's an open-source book about the history of special operations in Vietnam.
"I'll get back to you." Click. If there was one thing Da was unparalleled at, it was OPSEC. Couple days later, he called me back. "Yep, that were us. We not only ran the infils into North Vietnam, we also ran the U2 missions over China. That funky-looking cat you remember? That was the profile from the rear of a U2. The whiskers were the wings, those glowing eyes were the afterburners." Okay. Cool. Thanks, Da. Anything else you can tell me? Nope.
Dad took part in numerous operations of which he played a small part, but each, to his mind, justified a career with the CIA. Now, I understand that. One I'm going to awkwardly wedge in here, he had a piece of the Glomar Explorer.
When we were in Africa, a tour that set the course for my life, the Old Man got orders that his follow-on tour would be in Moscow. My brother and I were high-fiving each other. Not because we were Moscow bound, but because back then, in the bad old days, children of USG employees stationed in Moscow went to the American School in Switzerland. Oh, yeah, we were going to rock the Swiss. The Old Man, though, figured that when your kids get to the point that they don't want to go back to the States, it's time to go back to the States.
Shortly after he made that call, he got sent to Chad. Apparently Chad and Libya were having a war. The Old Man was sent out there to train the Chadian scouts in both tactics and comms. The Chadian scout screen would see where the Libyans were coming from, the Chadians would mass everything they had at that one point in space and time, and battle the Libyans to a standstill. Then the Libyans would pull back, and the Chadian scouts would continue to monitor.
This is the Old Man, with his boys, getting ready to go back out on the screen line: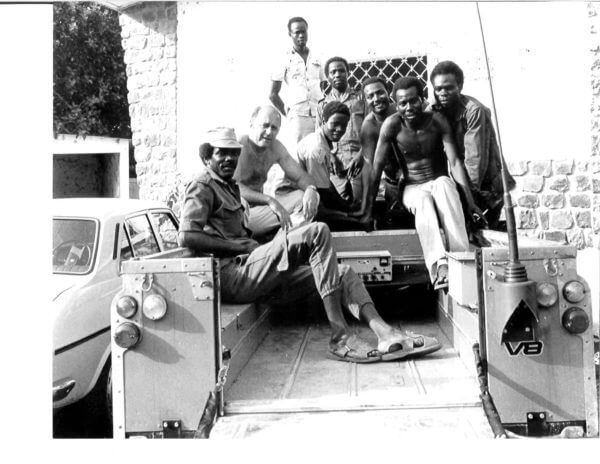 A mentor of mine, a retired SF guy that had worked with my Da back in Africa, saw this picture and said, "Well, I see your Dad, but who's that white guy?"
At Dad's funeral, a guy approached me and explained that he had worked for my Dad, and had written him up for an award. He gave me a copy of the write-up, which reads thus:
It is with great pleasure that I nominate Mr. William B. Welsh as the OC Beacon representative of the proud past of the Office of Communications. From the moment he first stepped onto the airport tarmac for his first assignment, to the time of his retirement in 1996, Mr. Welsh distinguished himself with his dedication to the mission, superior judgment, outstanding people skills, and unparalleled courage of his convictions.

In his first assignment, Bill was dispatched to terra incognita–and thrived, serving as an operator in a third world country, in a role akin to a new tightrope walker working without a net. Three years later, he saw his first ("annual") performance appraisal report, written by a manager who was not briefed into the program. Subsequently, Bill found himself in the middle of a war, without another American in sight. In each assignment, regardless of the difficulty or ambiguity of the situation, he served the mission in an outstanding manner. As his career progressed, he willingly traveled anywhere to meet the needs of the service, taking his growing family with him to assignments in various foreign locations.

It was during Mr. Welsh's final assignment with the OC that I had the pleasure of serving with him. Each day, he projected a powerful example of what an OC officer and manager should be. He was decisive and bold, yet insightful. Although Bill was known to bellow out, usually with humor, when emphasizing a point, he set the tone for a workplace where all were respected and supported. In daily exchanges with Bill, there was an honesty and lighthearted manner that made it a true pleasure to work for him. He abhorred micromanagement, and truly listened to his employees, coaching them as needed and turning them loose to achieve results. On those infrequent occasions when a mistake would be made, Bill would coach us to identify the source of the problem, provide any guidance or other help necessary to resolve it, and ensure that we all learned from it. Mistakes were never covered up, and were never used to unfairly castigate an employee. Performance issues were not ignored; however, they were resolved in a firm but fair manner. In his Office, Mr. Welsh had a sign prominently displayed, admonishing all to "BE POSITIVE, BE PROACTIVE, OR BEGONE!" From the onset, he clearly communicated his expectation that we would come into his office with proposed solutions, not simply a statement of the problem. In his dealings with our many customers, Mr. Welsh was always supportive of them yet was never intimidated. His leadership was recognized and appreciated by all who worked with him, as indicated by the GS-14s and GS-15s, Majors and Colonels, who would seek his counsel to resolve thorny problems.

Bill Welsh never feared or loathed the next generation; he hired and trained them! He led our recruiting efforts when our people were very unpopular on college campuses. Despite the adversity, he still brought gifted employees into Commo. As a manager he was supportive of his employees, valuing each one as a person and as a contributor to the mission. He ensured that all were provided with timely performance feedback, and he was a tireless advocate for his people in evaluation panels, ensuring that a number of his staff received well-deserved promotions or awards. Through his example, he instilled in his employees the need to recognize their subordinates for exceptional work.

With much admiration, I nominate Bill Welsh as OC BEACON. His commitment to outstanding customer service, his exceptional leadership, and faithful support set the standard to which those around him aspired. The example that he presented each day was a powerful influence upon those around him, bringing out the very best in each of us. Bill's forceful presence, resourcefulness, and commitment were inspirational, transforming those around him into the very best employees we could be.
Many awards write-ups are 90 percent fluff, but when I read this I thought, "Yeah, sounds exactly like the Old Man."
He, and the countless other Cold Warriors I knew from our globetrotting, deserve a nod. They busted their collective ass.
And the Soviet Union is no more.
Published in General