President Trump scheduled a rally in Monroe, LA, and son #2 (Socrimedes) asked me to take him. Monroe is a two-hour drive, plus waiting in line, and actually a bridge too far. But the rumor was that Trump would be coming near my home, so I begged off.
When it was announced he was coming to Bossier City, I knew I was going. I took off work at 1400 to get Socrimedes after school. Although people had been lining up since the morning and vendors had been outside the venue for days, I was pretty confident we would get in. We parked at a buddy's business (other parking was full) and walked the mile to the CenturyLink Center. We ended up on our feet for about an hour and a half.
We linked up with another buddy and finally found good seats a little after 1700 hours. Coincidentally, we found another couple and sat with them. It wasn't a bad wait, just a little over two hours until Trump arrived. We did what crowds do: the wave, the "we got spirit" chant, heck, we even did the thing where we turn on the cell phone flashlight and wave it back and forth like a lighter. Sadly, lighters were not allowed, among other things.
When he gave his remarks, the arena was about 85-95% full.

With a full complement of video media…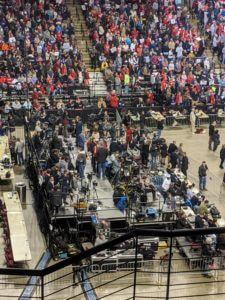 and seriously lacking in print media.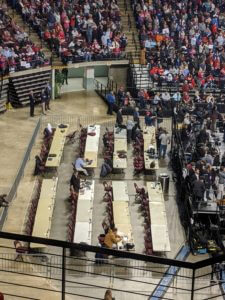 The rally was to promote gubernatorial candidate Eddie Rispone for governor of Louisiana along with other statewide officeseekers participating in the runoff.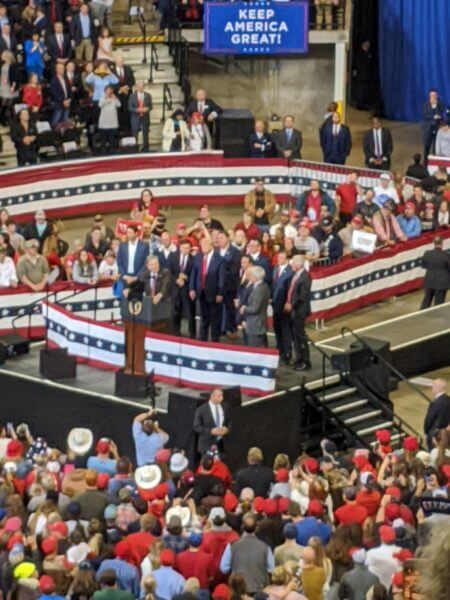 Apart from some choice words regarding impeachment and the complicity of the propaganda wing of the Democratic Party, he stayed remarkably on task. We had a really good time.
So, we came, we saw, we booed the propaganda wing of the Democrat Party (many, many times), we laughed, and we cheered. Mission complete when we got home at 2230.
Here are his full remarks:
.
Published in General