You can read Lieutenant Colonel Alexander Vindman's opening statement for his 29 October Congressional testimony here. First on Vindman, then the Interagency, then more on Vindman.
Full disclosure: I hate the fact that Vindman is in my cohort. He has to be junior to me, but he's a Lieutenant Colonel (LTC) in the United States Army. Way to go, pogue, you just put all your LTC brethren in the position of no trust from POTUS.
This is Vindman, in uniform, appearing for his testimony: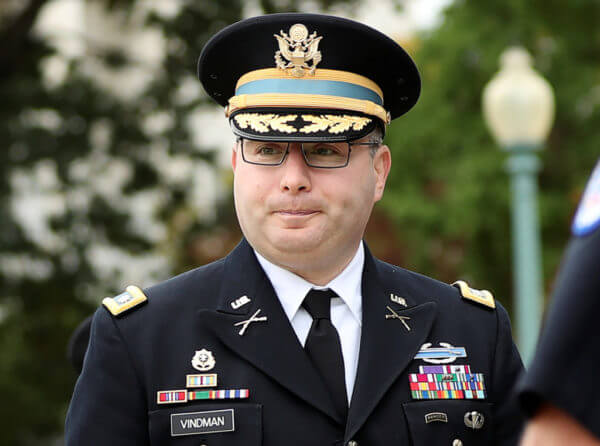 He's wearing the crossed rifles of the Infantry (why is the sky blue? Because God loves the infantry). As a taxpayer, do you feel a little cheated seeing an Infantryman that looks so…doughy? I'd like to see him do his PT test (shocking hint: I'm pretty sure he cheats).
In the six pages of his opening statement, Vindman mentioned "the interagency" three times.
Let me tell you about the interagency; During my time as an LTC, I worked with CIA, FBI, HSI, CPB, DOJ, NSA and others. We made some beautiful music together. Know what one of our primary guiding principles was? No matter how awesome or juicy our joint endeavors were, keep our planned operations, actions, or activities out of the Beltway (I-495) for as long as we could. As soon as the hacks in "the swamp" got their hands on what we were doing, protecting the country and doing good works would fall by the wayside. Immediately, the leadership of the "Interagency" would give primacy to equities and rice bowls. Yeah. No.
This philosophy was across the board. All of us worker bees were focused on doing the work, getting the job done, and protecting the country. I always despised the Army guys that went to DC, wore suits for duty, and got themselves off doing the interagency Dance of the Sugar Plum Fairies.
From Vindman's statement: I have dedicated my entire professional life to the United States of America. For more than two decades, it has been my honor to serve as an officer in the United States Army. As an infantry officer, I served multiple overseas tours, including South Korea and Germany, and a deployment to Iraq for combat operations. In Iraq, I was wounded in an IED attack and awarded a Purple Heart.
Mongo's retort: Wait, you were commissioned in 1998, you're still on active duty, and you've got one combat tour under your belt? One? Sorry about the getting wounded and all, but this smells like ticket-punching to me. Also, nowhere online could I find what billet he was filling; would bet pretty heavily that it was a staff job, though. Vindman doesn't strike me as the type of guy with a fire in his belly to lead Infantry studs into close combat.
From Vindman's statement: Before recounting my recollection of various events under investigation, I want to clarify a few issues. I am appearing today voluntarily pursuant to a subpoena and will answer all questions to the best of my recollection.
Mongo's retort: Uh, no, stud. There had been no vote on any kind of impeachment inquiry when you testified. So there was no authorization for any committee in Congress to issue a subpoena. So you received a request to testify and acquiesced; if you receive an actual subpoena, you're appearing whether it's voluntary or not.
From Vindman's statement: As an active duty military officer, the command structure is extremely important to me. On many occasions, I have been told I should express my views and share my concerns with my chain of command and proper authorities.
Mongo's retort: Oookay. What military officer in your chain of command green-lighted you showing up and testifying at Congress's request?
From Vinman's statement: I stated to Amb. Sondland that his statements were inappropriate, that the request to investigate Biden and his son had nothing to do with national security, and that such investigations were not something the NSC was going to get involved in or push.
Mongo's retort: [record skkrriiiitch] You what!? Know what the equivalent military rank of an US Ambassador is? Four-star general. So not only is your testimony insubordinate to the Commander-in-Chief and most likely your local chain of command, but your testimony itself highlights your insubordination. Lieutenant Colonels don't generate policy, they implement it, Lard-o. And your boss, Dr. Hill, was on her way in, apparently. You know what a military professional does? He goes through his boss to articulate any misgivings about what a policymaker says, and the boss deals with it.
This guy is a self-important weasel. Military personnel like him are one of the myriad reasons that I never took an assignment in the beltway.
He's testifying again today.
Bet you that if he hasn't already dropped his retirement paperwork, it'll be in by Christmas.
Published in General