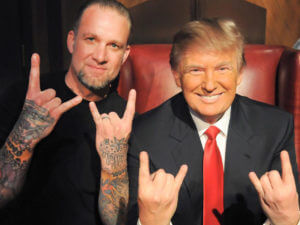 Researchers at The Economist wondered if musical preferences factored into political opinions, especially among the millions who voted for Obama in 2012 and Trump in 2016. They discovered that if Trump wants to win independents in 2020, he should strap on a flying-V guitar and start wearing studded leather.
Working with Vivid Seats, they compared county-level musical preferences with election results. It seems Obama-Trump voters just wanna rock. The hard rock/metal genre was the favorite of this group, defined by bands such as Metallica, Guns N' Roses, AC/DC, Tool, and Iron Maiden, and was calculated by concert ticket sales.
Unsurprisingly, rural areas liked Country and voted GOP, while urban areas preferred Hip Hop and voted Dem. Liking New Age music or generic Rock was also found to be "red"; R&B, Alternative, and Latin music were "blue."
According to data journalist G. Elliott Morris, "a county's share of music sales that went to hard rock is the single best predictor of voting for Barack Obama in 2012 and then Donald Trump in 2016." This remains true even after controlling for demographics.
So, if you think the Democrats will roll to an easy victory in the Rust Belt…
.
Published in Elections, Entertainment, Politics