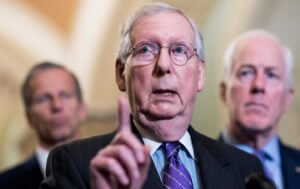 Kudos to The Federalist's David Marcus for an excellent post on the 5 Reasons A Senate Trial Would Be A Nightmare for Democrats. As a former Secretary of the US Senate who is pretty familiar with Senate procedure, I'd like to add a possible sixth: Blocking a "unanimous consent request" or "motion to proceed" to a Senate trial, if permitted under a more expert reading of the rules.
A procedure crafted in the 1950s and first used by the legendary former Senate Majority Leader (and US President) Lyndon Johnson, it always takes unanimous consent – or at least 60 votes to end debate in the 100-member chamber – to proceed to legislation. Thanks to the infamous "Reid Rule," the 60-vote threshold has been removed for presidential nominations. Any Senator's power to object to a UC is one very big difference between the House and Senate and gives individual Senators great power.
But for the Senate to proceed to an impeachment trial, the Majority Leader may ask for unanimous consent or could propound a "motion to proceed" to the Senate trial. Most recently, then-Majority Leader Trent Lott did that on the first day of a new Congress in Jan. 6, 1999, for the impeachment trial of one William Jefferson Clinton. No one objected. Obviously, Lott and his Democratic counterpart, Sen. Tom Daschle (D-SD), along with their colleagues, had worked out the procedure in advance, greatly assisted by Senate rules adopted 13 years earlier. Those rules detail the procedure for a trial, and Senate Majority Leader Mitch McConnell is highly unlikely to deviate from them without strong bipartisan support. And to be clear, some experts believe those 1986 rules require that the Senate must go to trial upon receipt of the House's impeachment resolution with no intervening mischief.
But possibly, the danger for Democrats is less the trial but having one Senator object to proceeding to a trial. That could trigger at least 30 hours of debate (equally divided between Democrats and Republicans, and only after a cloture motion is filed to end debate). And whether it garners the necessary 60 votes or not, the debate would probably continue for at least another 30 hours.
This debate would give Republicans Senators upset with the highly partisan and deeply unfair House impeachment process ample opportunity to command the Senate's stage for several days and powerfully outline the House's abuse of due process and specious nature of the case for impeachment. It also presents an opportunity for senators to discuss the underlying abuse of the counterintelligence investigation to undermine President Trump, as has been outlined in two terrific books — The Plot Against the President by Lee Smith, and Exonerated, by Dan Bongino — and outstanding reporting by John Solomon, Paul Sperry, Byron York, and Margot Cleveland, among others.
House Intelligence Committee Chair Adam Schiff's corrupt process, where he has virtually unlimited powers to restrict testimony and leak testimony favorable to his cause, will not be a hurdle for well-armed Senate Republicans (and maybe even a Democrat or two). Of course, that would mean someone would need to orchestrate a well-planned and executive effort, complimenting excellent floor speeches and debates with op-eds, media appearances, etc., and hope along the way that the Tweeter-in-Chief doesn't step on their messages. Two Senate leaders who are well-positioned to lead this effort, due to their leadership responsibilities and staff resources include Senate GOP Conference Chair John Barrasso (R-WY) and Senate Republican Policy Chair Roy Blunt (R-MO).
Possibly adding great fodder to all this, of course, is the Department of Justice Inspector General's report on the abuse of the Foreign Intelligence Surveillance Court (FISA) process and the FBI's dubious treatment of sources and source documents, along with US Attorney John Durham's official investigation into the collusion between the Hillary Clinton campaign and elements of the Obama Administration's intelligence apparatus.
What timing. Sure, many Democratic Senators, especially those running for President, would use their floor time to make their cases to impeach and remove Donald Trump as President. But with what new information, and especially if the Horowitz (DOJ Inspector General) and Durham reports are public by that point? Democrats likely would be rehashing the same, tired, old canards and attacks they've been using since 2016.
Are senators (and the White House) up to it? We're about to see. 
Published in Politics