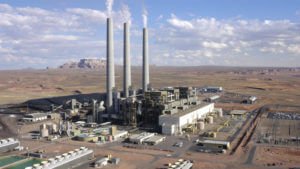 My wife and I recently visited Page, a small town in the north of Arizona at Glen Canyon Dam. The Navajo Reservation surrounds the area and extends some 150 miles south all the way to Flagstaff and east for hundreds of miles covering much of the state of New Mexico. This arid land is rich with minerals – but much of it remains untouched.
The natives live in small enclaves scattered along the state roads that cut through remote territory. Those within a mile or two of the main roads have power, thanks to the generosity of the Rural Electrical Authority. Housing stock is supplied by funds from the local housing authority (the tribe) via HUD. The land is, of course, owned by the collective. Jobs and water are scarce and welfare is not.
Page used to be buoyed by the Navajo Generating Station, a large power plant that burns local Navajo coal and takes advantage of the electrical distribution system used to deliver hydro-generated power at the dam. Federal regulations have doomed the station and thousands of Navajo who worked in the power plant and the related coal mines will soon be unemployed.
All that is left is tourism: Lake Powell and its surroundings, Horseshoe Bend Overlook, and the recently discovered ('80s) Antelope slot canyons. At about $80 or more in cash per person, the tribes push 5,000 tourists through these canyons every day. That's a lot of money and somehow I doubt the majority is making its way to the collective.
Some Navajos make trinkets and jewelry to sell to the tourists. Rough structures are scattered along the main roads for this purpose, and 90 percent of them are abandoned. Old abandoned trailers, mud hogans, and rough buildings are also scattered along the roads, traces of previous family enclaves now vacant.
On Indian land, you pay very little for housing since you have very little; and no one wants to occupy old abandoned buildings, especially when you can get a new double-wide from the tribe. So previously used housing, once vacated, is left for the elements to slowly reclaim. All these people have are their stories and their legends, a kind of collective of cultural and prideful despair.
There is also an undercurrent of resentment aimed at the rest of America. Reservation dwellers are entirely dependent on federal money for subsistence, housing, and healthcare, yet there is no real sense of gratitude. Perhaps there needn't be. But one has to wonder when the generosity, and its precursor, the guilt, will run out. Teddy Roosevelt wondered the same thing more than a century ago.
Legal confusion regarding the applicability of state and federal law had once allowed certain entrepreneurial tribes to run bingo parlors and small-time gambling operations; this niche has now been exploited to include Vegas-style casinos. But the Navajo Nation in Page has not yet tapped that potential. The nation does boast three casino operations but they are in remote places and their profits are spread thin across such a large and needy populace.
Life on this Indian reservation is difficult. Jobs are few, money is as scarce as water, chronic health issues are common, substance abuse is solace, and yet pride defies it all. Despite the best intentions of those who try to help, nothing seems to change. The latest setback is the closing of the Navajo Generating Station and the coal mine that feeds it.
And so it goes.
Published in General