We all love to read stories of heroic, honorable service. But not every soldier's service is something they can be proud of, and their stories can be fascinating too.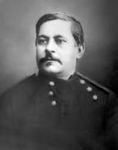 Marcus Reno was almost certainly drunk at the Little Bighorn. And without a doubt, the inebriation of Custer's second-in-command was a dereliction of duty and a foolish thing to do when he needed to be thinking clearly.
On the other hand, it may have been Major Reno's only chance to remain sane as, following Custer's orders, he charged his small battalion into the enormous, and furious, Sioux encampment.
As his attack commenced, Reno would look up and see Custer, sober as far as we know, wave him on from the nearby bluffs, just before the famous commander rode his own battalion four miles further to the north, into a swirling, desperate death, and into the pages of a thousand books.
As Reno's attack faltered, realizing he was terribly outnumbered, he would retreat to the top of a hill, dig in, and refuse to move.
Reno did not suffer Custer's fate, but he may have preferred it in the end. Though he was a decorated veteran of brutal Civil War battles like Antietam and Cold Harbor, battles he fought long before joining Custer's 7th Cavalry, Reno would be labeled, for the rest of his life, a coward who failed to come to Custer's rescue. For the rest of his life, he would have to fight for his reputation.
For the rest of his life, he would keep himself drunk.
A few of his fellow battle survivors would whisper criticism of him. But those men aside, none who would later bluster about Reno's cowardice could honestly put themselves in his shoes on that baking hot day in June of 1876. They simply could not know what that day had been like for him.
In all his previous battles, the rush of adrenaline, the fast-moving action, the intense focus on the task at hand had shut out the fear and quieted his troubled mind. But that simply did not occur for Reno at the Little Bighorn. He had feared it wouldn't. For days, as the inevitable battle approached, he had known, in his gut, that this one would be different.
It had all been so ominous. As the 7th Cavalry swept through the deep ravines and over the dry treeless bluffs of the Dakota territory, looking for Sitting Bull's camp of renegade Sioux and Cheyenne, trying to bring them to the reservation, or else destroy them, all signs pointed to a hostile force much larger than they had been told to expect. Their Crow and Arikara scouts were amazed at the size of the lodgepole trails in the grass, and of the abandoned camps. Worse, the trails seemed to be converging. In one of the abandoned camps, a white scalp had been found hanging on a pole. 
Even the aggressive, vain, and decisive Custer, a man who seemed born for a mission like this, had not been himself. In a conference with Reno and the other officers two days before the battle, the typically self-assured Custer was unusually solicitous of his subordinates' thoughts and opinions. The officers of the 7th Cavalry were a notoriously back-biting, jealous group. Custer and Captain Frederick Benteen were especially contemptuous of one another, each very eager to disparage the judgment and courage of the other in the press, to other officers, and to anyone else who would listen. Reno had his issues with Custer, too. It was a miserable duty in many ways, but prime among them was the constant need to watch your back, to worry about all the second-guessing that would come with any decision you made. But, now, here was Custer almost humble, seeming to honestly want to hear want his company commanders had to say. One of the officers left the meeting wondering what was wrong with him and confided in another, "I think Custer's going to be killed."
The scouts kept warning them that they needed more men. Reno could not escape the feeling that a disaster was on the horizon, but he could not see a way out. Events seem to drag him and the rest of the regiment inevitably into the coming catastrophe.
Early on the morning of June 25th, Sitting Bull's village was finally located. Custer preferred to rest that day and then attack early the next morning. But then reports came in that they may have been spotted by the enemy, and Custer felt he had no choice but to attack right away. He split the column into three separate battalions, one under his own command, one under Reno, one under Benteen, to make sure the Sioux could be corralled no matter what direction they might scatter. The Crow scouts implored him not to divide his force. What if they didn't scatter? But Custer refused to follow that advice, probably believing, again, that he had no choice. His job was to capture the village and bring the Indians there into the reservation. If he didn't divide his force, he would not be able to prevent the Sioux from slipping away. Custer pressed on, bad omens or not. If anyone had a realistic alternative that could prevent the enemy's escape, no one mentioned it.
In the anxious hours before the attack, one of Custer's Indian scouts, Half Yellow Face, ritually sang a haunting song. When Custer asked him why he was doing that he said, "Because you and I are going home today, and by a path that is strange to both of us."
Whether that bothered Custer or not, we do not know. But we do know the serious possibility of death at the hands of the Sioux had crossed his mind. Custer was famous for his long flowing blond hair, which he curled and scented with cinnamon oil. Before the expedition, he had cut it short to devalue his scalp. His brothers, who would die with him that day, and some of his company commanders, who often imitated Custer's audacious style, did the same. For Custer, at least, this turned out to be a wise decision, as the reports from those who found his body indicated that, although he was stripped and an arrow was shoved, mercifully postmortem, into his genitals, he was not scalped.
And so there sat Reno, an hour or two before that happened, with an oppressive mix of melancholy and fear twisting his gut and dominating his mind, taking a third of Custer's force into the Sioux encampment.
Reno was told to charge the south end of the village, which stretched for miles along the Little Bighorn River. Custer had ordered the attack, promising that he would support Reno's column, but he hadn't provided any details as to how. Then, he had ridden his group off to the north with scant communication to his other officers. Reno had no idea what Custer was doing.
Perhaps it was because his throat was dry with fear, perhaps it was thirst from the intense heat, or perhaps it was to calm himself, but whatever the reason, Reno began taking swigs from his whiskey flask early in the battle. At first, his orders made sense. He charged the village but pulled up short as it became apparent the village was going to charge back. He had never seen such an enormous gathering of Indians. His paltry force of 140-odd men was obviously insufficient as perhaps 1,000 warriors came at them, intent on protecting their women and children. He ordered his men to dismount and take careful shots, again not a bad idea given the circumstances, but a clear concession of the initiative to the advancing warriors.
As his men began falling, and warriors swirled around to the left of his line and cut off the best line of retreat, Reno continued taking gulps from his flask. He began to lose his grip. He ordered the battalion to remount, only to order them to dismount again a few moments later. Confused and terrified, virtually leaderless, his men sought shelter in a grove of trees. It was here that Reno's friend, the scout Bloody Knife, standing next to him, took a bullet to the head, spattering Reno with bits brain and blood.
That was it.
All the pent up anxiety and fear of the last few weeks came cascading out of him. He saw an opening in the Indian lines and called for his men, or at least those who happened to be within earshot, to mount up and run for it if they wanted to live. He and his men fled the woods, desperately flailed across the river, and climbed a nearby hill. Reno set up no rearguard action to cover the retreat, and it became a bloody rout. Right and left, Reno's men were shot off their horses and butchered on the ground.
By the time his battered force reached the top of the hill, they had lost at least a third of their men and the ones remaining were in no shape to go on the offensive. Fortunately, the Indians did not follow them up the hill, and though enough hung around to keep Reno contained, most of them rode off down the valley to the north. Dr. Porter, a surgeon attached to the battalion, found Reno at the top of the hill and remarked that the men seemed demoralized on the retreat. Reno, who by this time had lost his hat, his carbine, and his pistol, standing with a handkerchief tied around his head, responded pathetically, "That was a charge, sir!"
Captain Frederick Benteen arrived with his fresh column from the South, having been summoned by Custer. He found Reno barely coherent, obsessed with the absurd idea of sending a party out to bury a friend of his who had been killed down below near the river. Reno was despondent over the loss of so many of his men, almost apologetic. He refilled his flask from a keg brought along with the other supplies brought up behind Benteen's column.
Soon, firing could be heard in the distance, indicating Custer's force was engaged. Some of the officers wanted to head in that direction to help, but Reno refused to move. Benteen and the other officers had more or less begun to ignore Reno, but they deferred to him on this point.
There would be no serious attempt to join Custer. Captain Weir, a personal friend of Custer's commanding one of Benteen's companies, insisted on riding his company out for a closer look and ignored Reno's order to stay put. Almost out of shame, it seems, Reno eventually decided to follow him. Weir got to a high point within 3 miles or so of Custer but by that time it was all but over. He was able to see a few warriors riding in circles and seeming to shoot at the ground, likely finishing off some Custer's men. There was clearly no point in going any further.
Reno and Benteen remained in a defensive position all through that night and through most of the next day, fighting off periodic attacks, listening to the Indian's celebration in the distance. The next day, General Terry's column of infantry arrived from the North. The Indians moved on and with that, the battle ended.
Reno would spend years trying to restore his reputation, even requesting a court of inquiry to investigate the allegations of cowardice against him. It was no use. Although the court of inquiry could not, officially at least, conclude that he had acted dishonorably, that notion persisted with the public. Reno would never command another unit in battle. His life disintegrated. In 1880, he was dishonorably discharged for another, undoubtedly drink induced incident, in which he was accused of peeping through a window at another officer's wife.
Only the passage of a great deal of time could have helped Reno recover. The truth is that, had Reno done what his detractors said he should have, and ridden out to try to rescue Custer, he and the rest of the regiment almost certainly would have been annihilated. There is no reason to believe he and Benteen, with perhaps 250 to 300 men, could have fared any better than Custer against the 2,000 warriors in the village. Many men and future generations of those men's families owed their lives to Reno's alleged cowardice. Ironically, a sober, wise, composed commander in Reno's position might well have made the same decisions Reno made while drunk and frazzled, and with the same results.
Sometimes it's not what you do, but how you do it.
As it turned out, Reno didn't have much time. In 1889, cancerous tumors developed in his mouth. Following surgery to remove a tumor on his tongue, he developed pneumonia. Alone, in a hospital in Washington DC, he died in disgrace. He had few, if any, mourners, and was buried in an unmarked grave. 
Custer's widow, Elizabeth, made it her mission after her husband's death to guard his reputation. Since he could not be blamed for the disaster, it had to be pushed on Reno and Benteen. In 1926, near the 50th anniversary of the battle, there were discussions of placing a monument on the battlefield, and even a suggestion that, after all that time, perhaps Reno should be included in the memorial. Elizabeth, then in her 80's, objected, calling Reno, "the one coward of the regiment." Reno had no one to speak for him. His wife had died in 1874, two years before the battle.
In truth, the disaster was Custer's fault. His leadership of the 7th Cavalry, at least in terms of keeping a group of officers working as a team, was abysmal. He ignored frequent warnings about the size of the Sioux village. He divided his force and then neglected to communicate his battle plan to the other officers. He put Reno in a completely untenable position. If there was anyone who could have broken the chain of events dragging the regiment into the abyss, it was Custer.
Finally, in 1967, enough time had apparently passed for Reno's legacy to be reevaluated. While no one could say his service at the Little Bighorn was honorable, it was at least finally possible to step back and view his service as part of the bigger picture of American history, to appreciate what his story has to say about human nature, about how a man can be pushed to the breaking point. A military review board reopened Reno's 1880 court-martial and, perhaps recognizing that the court-martial,instigated by friends of Custer, may have been improperly rigged to embarrass Reno, reversed his dishonorable discharge. Reno's remains were disinterred, and he was finally buried, with honors, where he really died – at the Little Bighorn battlefield. 
Published in General