This is page one of the "Intermediate Level U.S. History since 1900" workbook, used to prepare for the citizenship exam. What, if anything, do you think current 8th-12th graders and college students would put down in each block, before peeking or asking Siri or Alexa? If you let either of those spirits into your home, what do they say about these wars?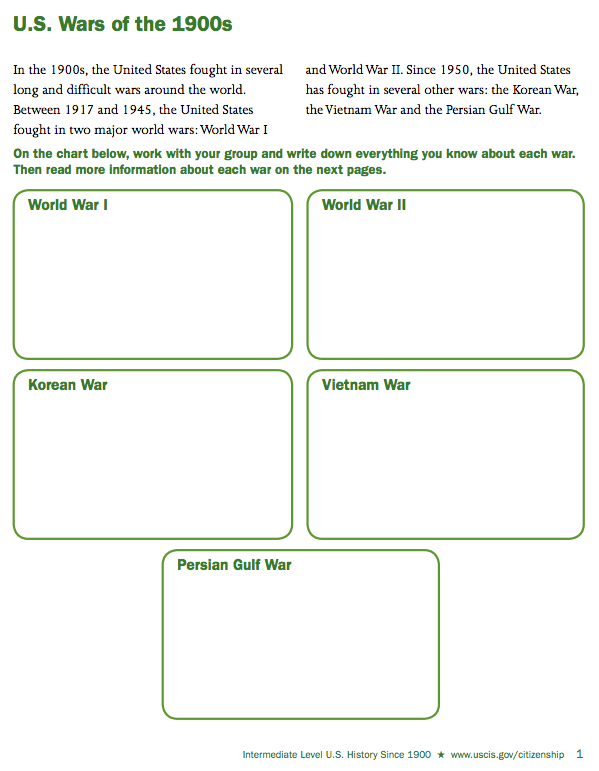 To pass the civics portion of the citizenship exam, you can memorize 100 questions and answers, or go through some self-study workbooks to learn what you must know, or take classes to learn and practice to take the exam. If you take naturalization classes, this workbook is part of the USCIS lesson plans.
For this Veterans Day, on Remembrance Day for our English-speaking allies, how might the answers for citizenship differ from what is being put into the brains of students in public schools across America? It is definitely not just that students "don't know much about history." John Hinderaker calls the current situation in our public education "the biggest threat to our future":
Academic standards have collapsed; objective testing is out of fashion; corrupt left-wing unions have taken nearly complete control; indoctrination has largely replaced education. The result is that we are raising a generation of ignoramuses.

[…]

I think we are rapidly approaching a point where there is a serious question whether our population is too dumb to sustain a democracy.
If we can enforce the curriculum and answers for citizenship at the national level, then exactly what is the excuse of every Republican't in state and local government? How about "we really do not want to do the hard work of forcing change or stopping change though boards of regents and boards of education, with the full weight of legislatures, executives, and courts." We have the power to change this, by changing out politicians until they are terrified into courage, at which time we will have republican seas of excellence with island states of wokeness.
The only proper answers to Republican't are:
"People have the power."
"No fate."
"Yes, we can."
Published in Education