A number of years ago I had the privilege of travelling with a church group to Amman, Jordan. There we met with the local director of a ministry called Global Hope Network International. These folks are Christian ministers whose goal is to serve anyone who needed help. Of course, mostly those are the poor and sometimes homeless, both from the local population and amongst the refugees from various countries. I sat in the living room with three siblings who'd fled Hussein's Iraq. I drove from village to village with an Egyptians pastor who tended a dispersed flock of Coptic Christians. I preached the gospel in a Sunday service of predominantly Arabic speaking people.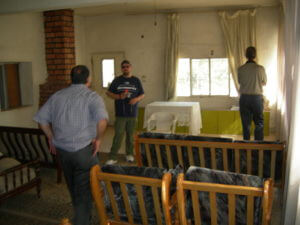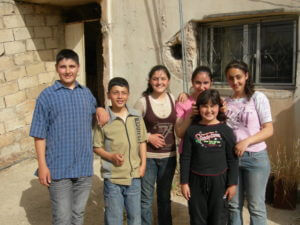 On one particular day we visited a medical clinic that was supported by GHNI. There I met a mother with her two young children. They could not afford to go to school, and she was asking the clinic if there was money to help. They were Palestinian refugees from Israel. In Jordan, it doesn't matter how long you've been in the country, you are still second (or third class) if you aren't as they call it "bure Jordanian". They say "bure" instead of "pure" in English because in Arabic there is no P sound, I am told. Anyway, I felt a strong urge to pay this money for the family, it amounted to about $150 dollars (we weren't quite sure what the exchange rate was at the time). I called my wife and asked if we had an extra $150 in the bank. When my kids heard about it, they said: "We'll give the money!" And between finding money around the house, their piggy banks, and their savings accounts, the wired enough money to cover the cost.
The following day, some of the men on the crew went out to the village where a man was trying to start a house church in the upstairs rooms of his home. When he had heard that visitors from America were there, he asked if they would help paint the upstairs. We arrived and there was no paint, no equipment to do the painting, and some of the windows were broken. We were just discussing how to obtain the material we needed and how to pay for it, when the director of the ministry called and said that the money my kids had raised was more than enough for the children to go to school. He wanted to know what I wanted to do with the remaining balance. It turns out that the remaining balance was just enough money to cover some paint and some rollers and some brushes. So we had the money we needed.
While we were painting, the man who owned the home sent his kids up with shawarma, some bottles of soda, and a few other treats for lunch. The kids of course didn't speak English, but they had a great time serving us the food, taking our plates after we ate. We even played a little soccer with them. Toward the end of the day, the man came to me and said: "You've shown my kids what it really means to serve Christ!" I then explained where the money came from and said that he'd given my kids an opportunity to serve Christ as well. We shed a tear and prayed together in the hot Jordanian sun. Then we went on to our next stop.
I'll likely never see any of those folks again. I keep in touch with the ministers of GHNI, but not the folks we helped. They came into my life briefly and then went out again. But still I served them, and they served me. There is an old parable of a young boy at low tide. He's throwing starfish into the water, thinking of course that they had been stranded and would die. A man comes along and says "Son, you can't save them all, there are too many!" The boy picked another starfish off the rock and threw it in to the water and said: "Well, I saved that one!" Most of us don't get to do big things. We just get to do a lot of little things. And if we are willing to love each other by serving each other, we can change the world.
Published in General